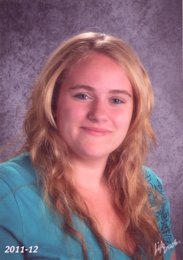 Savanna Holloway, a 2012 Hood River Valley High School graduate, touched many others' lives before her death on Tuesday.
Savanna's parents, Sheri and Scott Holloway, issued this statement on Thursday:
"We are deeply saddened by the tragic loss of our daughter Savanna, who died in an auto accident on Highway 35 Tuesday, Oct. 16, 2012.
"We want to thank family and friends for all of their tireless help, support, love and prayers we have received. We want Nicholas Laurance to know that our thoughts and prayers are also with him and his family. It was a tragic accident that he could not have avoided."
Savanna was active in FFA and the Eagle wrestling program. Members of both groups met Thursday to grieve together and to talk about ways to help the family, said Trent Kroll, wrestling coach at HRVHS.
"Savanna was a member of our statistics crew from her freshman year through her senior year," Kroll said. "She spent evenings and weekends doing the jobs you don't often get much attention for: scoring, compiling, helping at tournaments and quietly taking care of more details than we can list.
"She was always there in the right time and place, usually working in supporting others and giving others an opportunity to shine.
"Right now our thoughts are with Savanna's family and those close to her."
The HRVHS Stat Crew has decided to begin a memorial scholarship in Savanna's name.
Hood River Alliance Church will be hosting the service for Savanna at noon Saturday, Oct. 20, with a reception to follow. The address is 2650 Montello Ave. (at the corner of Rand and Montello). Desserts or salads for the reception would be appreciated.
Contributions to benefit the family can be made in care of the Hood River Alliance Church, Anderson's Tribute Center or May Street Elementary School.
— Kirby Neumann-Rea