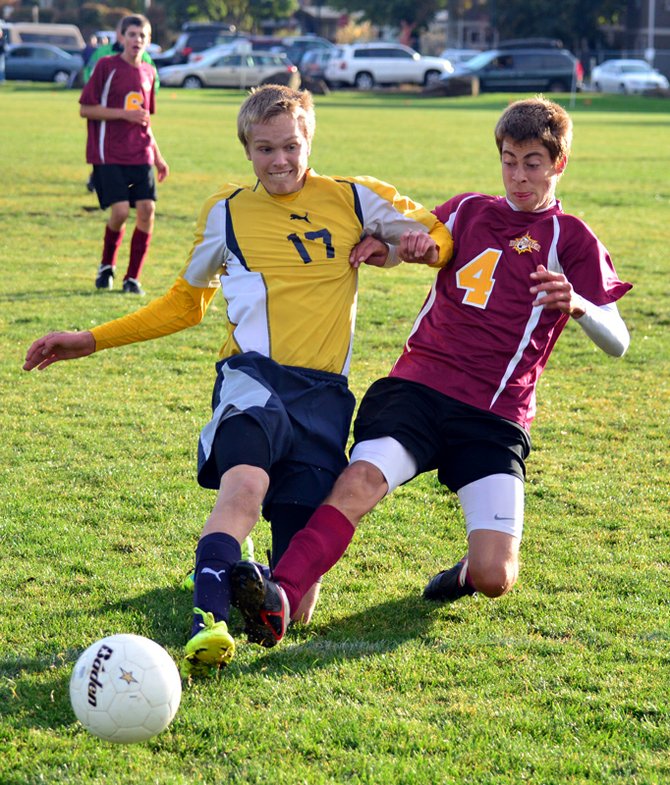 Horizon Christian won the District 5-1A regular season soccer title Monday, with a 2-1 win against visiting C.S. Lewis Academy of Newberg.
The victory gives Horizon the top seed going into the district playoffs, which begin Monday. The Hawks (8-3-1 overall, 7-0-1 league) host City Christian of Portland in the first round of the playoffs. Life Christian hosts Crosshill Christian in the other semifinal match. The final and third-place matches are Nov. 2 at Hillsboro Stadium.
On Monday, Horizon overcame a lackluster performance to win its second regular season championship in school history. The match was played on a crisp fall day in front of a home crowd which honored the four Horizon seniors — Raquel Bruggeman, Aman Mann, James Rovianek and Bryce Smith — at halftime. C.S. Lewis suited up only 10 players, and played most of the match — including the entire second half — with only nine.
When it was suggested that his team was sluggish, Hawk coach Rick Whitaker said: "I second that motion. But, they got it done, so I was happy with that fact."
C.S. Lewis led 1-0 at halftime, but its top player, exchange student Augusto Aquila, went down with a knee injury shortly after he assisted on his team's goal. Aquila didn't return in the second half, but his nine teammates more than held their own.
"I've got to hand it to them," Whitaker said. "They played calm; they played their passing game well."
Horizon finally broke through on offense 10 minutes into the second half, when Connor Moon scored on a Mason Bloomster crossing pass to tie the match. Ten minutes later, Mann sent a pass from the right end line to the front of the goal, where Bloomster converted it into the game-winner. Horizon had numerous second-half shots on goal, including three that hit either the crossbar or a post, and a missed penalty kick.
C.S. Lewis made things interesting in the closing minutes, forcing Hawk goalie Tim Johnson to make two sliding saves to preserve the win.
Whitaker said the Hawks will have to play better to have success in next week's playoffs. City defeated Horizon 6-2 at the Trout Lake Tournament Sept. 8; Horizon won the league match between the teams Sept. 20, 7-5.
"Hopefully our guys will pick it up," he said. "It's going to be back to the grind this week in practice.
"When you get into games like that (on Monday), where they are a man down, where you have a chance to win the league, sometimes there's extra pressure. I was just happy when I heard that final whistle."