Welcome to Halloween Week. Don't try to fool me, this holiday always seems to fall right around the time Home Depot puts up Christmas decorations, which, by the way, happened several weeks ago. I was there, in early October, watching perplexed customers get distracted by displays of Santa lawn ornaments and "energy efficient" 5,000 LED pre-lit trees.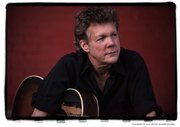 Grammy nominated folk-pop troubador Steve Forbert will play the Alberta Rose Theater in Portland on Friday, Nov. 2. Win a pair of tickets to the show courtesy of Jim Drake's Entertainment Blog in the Hood River News. Here's how: Send Jim Drake an email, put Steve Forbert in the Subject Line (or Comment/Question box). Include your contact information. Send to jdrake@hoodrivernews.com. Your name will be entered in a drawing, to be held Oct. 31. Winner will be notified by noon. Since 1977, Steve Forbert has been creating uniquely Amercian music. With his break-out hit "Romeo's Tune," Forbert established himself as a powerful, in-demand performer in the Greenwich Village scene in New York City. With constant touring and over 15 albums to his credit, Forbert continues his amazing song-writing craft on his latest album "Over With You." Read an interview with Steve Forbert on Jim Drake's Entertainment Blog on the Hood River News website. Winners must adhere to all rules/regulations concerning the venue (ie age limits, etc). Winners will be placed on Venue Guest List. Employees/family members of Hood River News cannot qualify to win. One entry per person.
Yesterday, I handled the information for what I believe to be the start of Halloween Week — a benefit party at The Pines on Oct. 26, a full five days before the Actual Halloween Day. My apologies if I missed an event that takes place before this event. Maybe we should start Halloween in mid-September, giving everyone plenty of time to plan.
OK, enough, let's be serious for a minute. I've got a nice surprise here, and it's no Trick.
I talked to a guy the other day. His name is Steve Forbert. He's playing a show at the Alberta Rose Theater in Portland on Friday, Nov. 2. And guess what? I have a pair of tickets to give away! Yes, you read that right.
Want to win them? Just email me (jdrake@hood rivernews.com), put Steve Forbert in the subject line, and I'll throw your name into a hat. Or pumpkin. Or one of those cornucopia things. Or a stocking. The lucky winner will be drawn on Oct. 31. Now, what holiday was that?