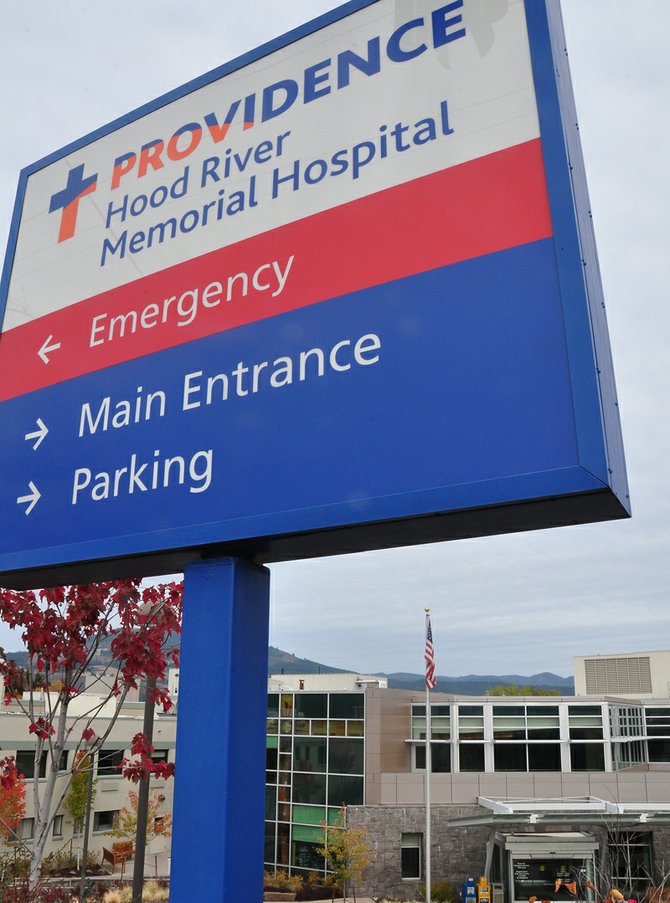 As a Dec. 31 deadline nears for employers with Health Net plans to either stick with the provider or jump ship, many are expressing frustration with the way Providence Health Services has handled the situation statewide.
In September Providence decided to end its contract with Health Net, meaning that Health Net customers would face out-of-network charges for using Providence doctors.
In Hood River county where the only hospital is run by Providence and many doctors are part of the Providence Medical Group, that decision hits particularly close to home.
Hood River County administration and numerous other employers around the county with Health Net coverage are currently in a scramble to make new coverage arrangements for next year.
Many of them are facing a raise in rates in a tough economy, a raise that they either must swallow or pass along to their employees.
"It's going to raise our health insurance rates for what we pay out for employees, no question about it," said Dan Bubb, president of Gorge Networks, which has 30 employees on a Health Net plan. "And like every other business, we'll have to decide where that comes from."
The county's benefits committee met last week to begin exploring alternative options.
County Administrator Dave Meriwether said that Health Net had submitted a proposal to the county indicating Health Net would cover out-of-network costs for the first quarter of 2013 and make an adjustment of the percentage employees pay for out-of-network costs for the final quarter of the next year.
"There are two or three options out there including quotes from other carriers and mitigation of impacts from Health Net," Meriwether said.
Meriwether said that Providence had submitted a bid for coverage through its health plan, but did not say whether it was an improved offer from the last time the county took bids, when Meriwether classified it as "non-competitive."
The county benefits committee will be meeting again later this month before forwarding a recommendation to the county board of commissioners.
Keiffer noted that Health Net plans would continue to be available in Hood River County, but that things would be changing for those plans.
For commercial or employer-provided PPO plans, employees would pay a higher copay or out-of-network rate for using Providence services while those using the less-popular EPO plan would need to find a non-Providence doctor in order to continue using it.
The decision by Providence is also concerning local independent physicians, who contract with Providence for hospital privileges and referrals.
"I have patients who are pregnant and if I send them to Providence they are going to get charged a bunch of extra money," said Dr. Kristen Dillon with Columbia Gorge Family Medicine.
As the only hospital in the county, Providence Memorial Hood River received "critical access" funds from the federal government. Those funds are designed to subsidize rural hospitals in order to help them stay in business in outlying areas.
Dillon said she was concerned over Providence's decision essentially cutting a health insurance provider out of the market in Hood River and forcing residents to choose between the Providence Health Plan or pay out-of-network costs.
Dillon and her colleagues at Columbia Gorge Family Medicine wrote a letter to the state insurance commissioner, Louis Savage, asking him to look into Providence's decision.
"The Providence Corporation owns a health insurance plan, inpatient facilities, home health providers and a large medical group," Columbia Gorge Family Medicine writes. "Their choice to withdraw from the Health Net provider network will likely drive Hood River membership in that health plan to minimal levels within the year.
"This may set up Providence to have growing market share as a health insurer, in addition to their growing role a s provider of care. We worry that Providence will be able to exert anti-competitive pressures on health insurance options and health care services in our county as a result."
Tricia Roscoe, Providence chief executive for business and market development for Oregon and Southwest Washington, said that Providence is not worried about critical access funding being in jeopardy, because she believes Providence is in fact creating more access by incentivizing providers to utilize new tools such as email or phone visits and better integrating behavioral health services.
Providence has said its decision to cut out Health Net came about through the changing nature of health care, particularly with the implementation of health care reform on the national level.
The move follows a trend in recent months of health insurance plans and health care providers entering into exclusive contracts.
Earlier this year Providence signed a deal the LifeWise Health Plan of Oregon, which designates Providence as the sole in-network hospital provider for LifeWise users.
Last spring, Regence Blue Cross-Blue Sheild entered into a similar arrangement with Tuality and Adventist Health Systems in the Portland Area for individual plan members.
Providence is currently battling Legacy Health Systems for control of the Portland market, and Health Net had arrangements with both Legacy and Portland.
Brad Keiffer said Providence had given no indications that it was looking for Health Net to pick a side before delivering a contract termination notice.
"There was not any outreach," Keiffer said. "They gave us no notice and just sent us a letter informing of us their decision."
Even while Health Net may continue to provide plans in Hood River, Dillon, whose medical group uses Health Net for its employees' medical insurance, said that fact may eventually become moot.
"Providence's decision means that all of our participation in the Health Net network becomes a moot point, because (patients) would be paying much higher costs for the things we can't provide," Dillon said.
Roscoe said that she sees the trend of insurance providers and health care providers aligning themselves with each other in exclusive contracts continuing into the future.
"I believe there is going to be more and more" of these types of agreements, Roscoe said.
That may prove to be the case, but it does not sit well with employers who are stuck as collateral damage in a battle between large health care providers and insurers for control of the increasing pool of people required to purchase health insurance under health care reform.
"What is their ultimate game plan? Are they going to pull out of everything and put the squeeze on?" GorgeNet's Bubb wondered. Bubb said that the community had raised hundred of thousands of dollars for people to receive care at Providence over the years and that in light of the community support, Providence's decision "just doesn't seem right."