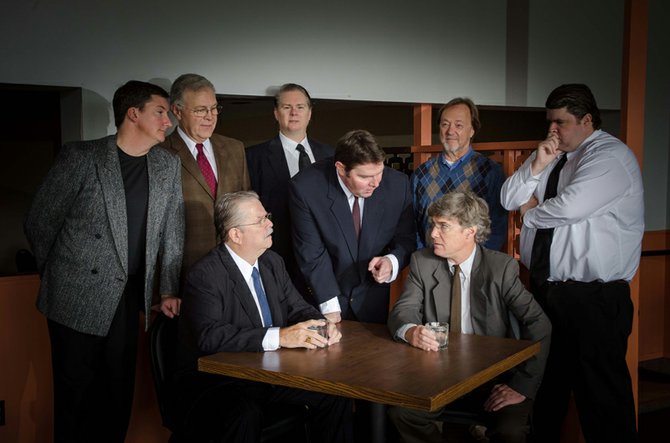 "Always be closing."
This is the basic building block for a definition of masculinity in the upcoming play "Glengarry Glen Ross" opening Friday at CAST Theatre.
Judie Hanel directs CAST's first staged reading for the 2012-13 season.
In a staged reading, the actors work from scripts, but the actors also move and make entrances and exits.
The play, written by David Mamet, won the Pulitzer Prize for Drama in 1984. The movie starred Jack Lemmon, Al Pacino, Ed Burns, Alec Baldwin, Kevin Spacey and Alan Arkin.

The play shows parts of two days in the lives of four desperate Brooklyn real estate agents who are prepared to engage in any number of unethical, illegal acts — from lies and flattery to bribery, threats, intimidation and burglary — to sell undesirable Florida real estate to unwitting prospective buyers.

Cast members are Gregory Baisden, Tom Burns, Jason Carpenter, Greg Colt, Joe Garoutte, Greg Gilbertson, Bruce Ludwig and Kirby Neumann-Rea.
n
Performance dates are Nov. 2 and Nov. 3 at 7:30 p.m. at Columbia Center for the Arts, 215 Cascade Ave. in Hood River
Ticket prices are $5.
Note that the play contains extensive mature language, and may not be suitable for children under 16.