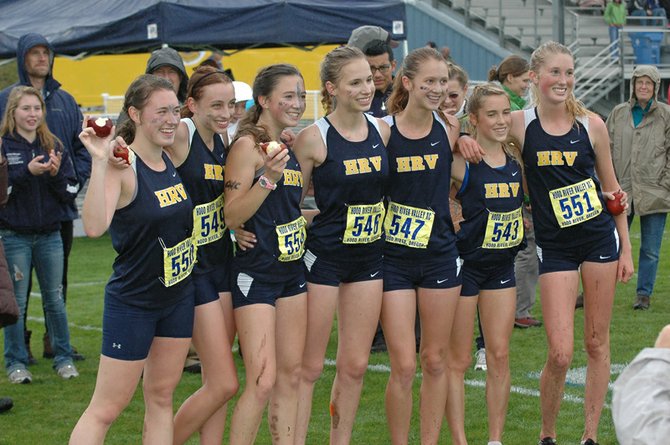 The youngest and oldest, least and most experienced runners displayed serious determination Saturday as the Hood River Valley High School girls cross country team ground out a thrilling victory in the District meet at HRVHS.
Junior Grace Grim reveled in the rain; she beat top-ranked 5A runner Maggie Coleman of Hermiston and set a course record on the way to the individual title.
HRV edged Hermiston 33 to 36 for the team title. Victory in cross country, like golf, goes to the lowest score. Team scores are based on the individual placements by the squad's top five finishers.
In boys' scoring, Hood River placed third. Ricardo Castillo took sixth overall (16:47), one spot out of qualifying for state.
Boys district champion Hermiston claimed the top four spots to finish with 19 points, followed by Pendleton with 51, HRV with 56 and The Dalles-Wahtonka 112.
After Grim nabbed the coveted No. 1 slot, freshman Saschia Bockius ground out a sprint finish to hold off two other runners for the key third place. Bockius collapsed at the finish line after putting every last bit of energy into holding her place ahead of Katie Markwick of Hermiston.
"I was just trying to focus on running through the finish line and not letting her get past me," Bockius said.
"It takes a lot of focus. I just tell myself to send power to all the parts of my body and just try to run like I do in practice — hard."
Lydia Gildehaus came in seventh, Madison Freeman eighth and Althea Dillon 14th — all three either passing or staving off an opponent at the finish to group well and enter the chute with the treasured low numbers.
"It feels great," said Gildehaus, the captain and the varsity's lone senior. "It feels like last year we had a solid pack and this year more front runners than usual, so it felt kind of off; at the same time it felt like a challenge to pack up."
Spectators saw the Grim-Coleman pairing stay shoulder to shoulder, or heel to toe, for the first two thirds of the race. When the leaders disappeared down the Indian Creek trail for the last stretch of the race, it was a draw.
And then Grim emerged from the trail, by herself, to a rousing cheer, and finished about 100 yards ahead of Coleman.
Grim described it this way: "She (Coleman) kept kicking my shoes almost. It actually felt like a pretty comfortable pace; she was using her elbows a lot to keep me from passing.
"Then she kind of slipped, when she tried to elbow me out of the way on a flat section. I shot by her and took her on the hill. We know it (the hill) and hills don't really bother me because they're going to be over soon."
Grim and her teammates travel to Lane Community College for Saturday's state meet.
"It's been kind of a dream," Grim said. "I didn't know it would be possible until I beat her (Coleman)."
Gildehaus said the team is thrilled to be going to state together.
"I told them before this race, we're going to get from point A to B, and on Monday (practice) we start going from point C to D, from district to state.
"I know we can place as a team. Last year our goal was the top seven, and this year, the top five."
"We know we can do it," said Grim, a junior in her first year in high school cross country, "if we put ourselves on autopilot, push through and pack up, focus on staying tight.
"I'm really excited. It's going to be a really good experience."
Coach Kristen Uhler attributed "great leadership" in their senior captain, Gildehaus.
"It also really helps to have two front-runners. Our focus has been the state meet all season long," Uhler said. "We ran the course earlier in the season and Lydia, Althea, and Madison ran last year. Experience is a huge advantage! That and mental focus!
"The girls aren't just satisfied with the district title," Uhler said. "Summit, Mountain View (both of Bend) Corvallis and Hermiston will all be tough."
HRVHS top five and times
Girls
Grace Grim, 18:18
Sascha Bockius, 18:50
Lydia Gildehaus, 20:04
Madison Freeman, 20:20
Althea Dillon, 20:21
Boys
Ricardo Castillo, 16:47
Jorge Cuevas, 17:14
Justin Crosswhite, 17:29
Juan Carlos Rios, 17:30
Ben Dane, 17:36