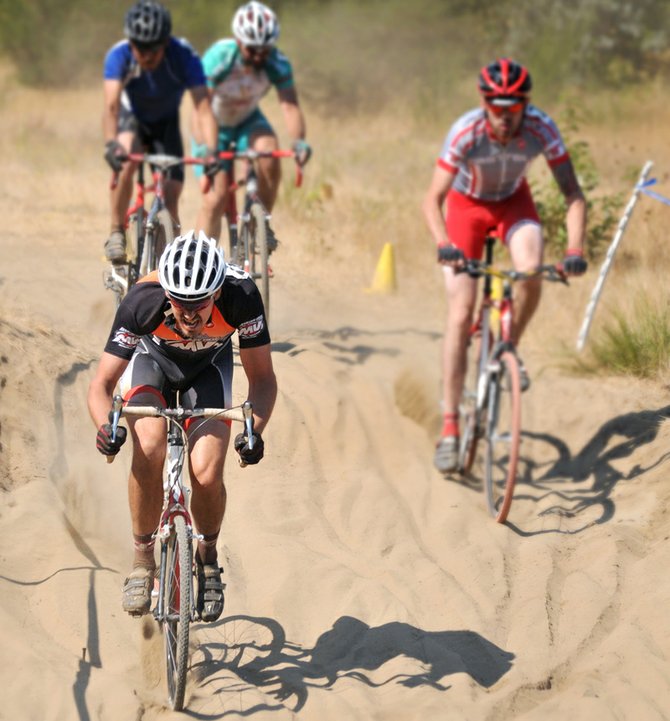 The 2012 Double Cross brought several hundred riders over the weekend to Cascade Locks Industrial Park for two days of top-notch cyclocross racing. The event, a mix of on- and off-road bike racing around a loop course, drew riders ranging from first-timers to professionals who race year-round.
"It was a great success," said Jeff Lorenzen, race director. "We had 862 riders over the two days, which makes it our biggest year ever."
Dozens of riders represented Hood River at the race, including teams Mountain View Cycles/Subway and Upper Echelon Fitness: Sports Medicine and Training. Complete results are listed on the official race timing site at www.obra.org/results.
Local rider highlights include Lora Melkonian winning the Masters Women 45+ division, Zach Mikkelson finishing second in the junior 13-14 division, Connor Dunn taking second in the junior 17-18 division, Hannah Mavis finishing second in the junior 13-14 division, Jeff Parker finishing sixth in the masters 50+ division and Carly Heron taking second in the Women C category.
Double Cross had been held for about ten years at Hood River Valley High School, but this year organizers moved the race to Cascade Locks to take advantage of a new trails system and about 100-acres of open space at the east end of Cascade Locks.
"The event showed off our Industrial Park at its best," said Gary Rains, Port of Cascade Locks economic development manager. "We hope to find other events that are family-friendly and give the Port a chance to show off our Industrial Park in a new and different way. We are open for business and (encourage) exposure to any new group of sports enthusiasts who are not aware of what Cascade Locks has to offer. Next year we hope to build on this and help it become a premier event in the Gorge."
Lorenzen noted the Port of Cascade Locks, Nestlé Water North America, Oregon Bicycle Racing Association, Chad Sperry/Breakaway Promotions, Packer's Cookie Stop, Waucoma Bookstore, Silverado Jewelry Gallery, Double Mountain Brewery, and G. Williker's Toy Shoppe for their support and sponsorship.