It's time for week two of our football pick'em contest!
To view the list of games and winners picks, click here or open the document below..
Document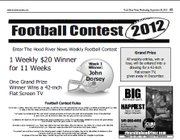 We're having some troubles with our web entry form at the moment so to submit your games for this week send an e-mail here with your entries.
Please put "Football contest entry" in the subject line and include the following information:
Name
Address
Phone number
Email
Game 1 Advertiser/Game 1 winner
Game 2 Advertiser/ Game 2 winner
Game 3 Advertiser/ Game 3 winner
Game 4 Advertiser/ Game 4 winner
Game 5 Advertiser/ Game 5 winner
Game 6 Advertiser/ Game 6 winner
Game 7 Advertiser/ Game 7 winner
Game 8 Advertiser/ Game 8 winner
Game 9 Advertiser/ Game 9 winner
Game 10 Advertiser/ Game 10 winner
Game 11 Advertiser/ Game 12 winner
Game 12 Advertiser/ Game 12 winner