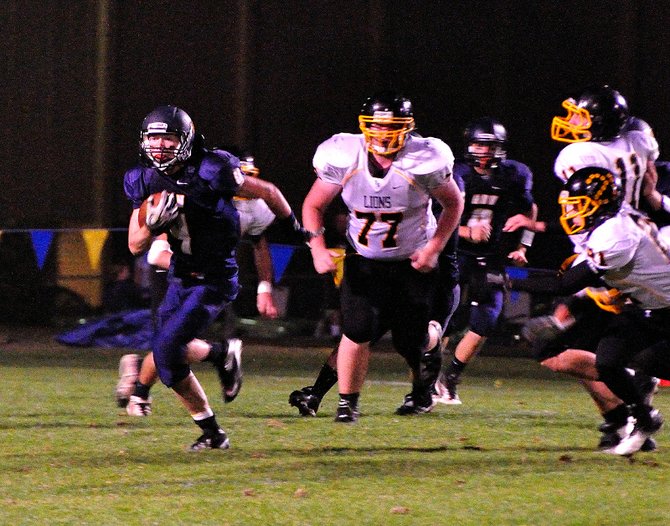 It would have been hard to draw up a homecoming result any better for the Hood River Valley football team.
The Eagles shrugged off a slow start to obliterate the St. Helens Lions 58-10 Friday night in Hood River.
The Eagles rushed for 437 yards, with five touchdown runs of 50 or more yards by three different players.
Forrest Broddie rushed for 255 yards and four touchdowns while Jeremy Fischer rushed for 138 yards and a touchdown.
The pair blew the game completely open at the start of the second half.
Fischer rushed for a 78-yard touchdown on the first play from scrimmage in the second half, while Broddie followed with a 62 yard touchdown run later in the quarter and an 80 yard run in the fourth quarter.
The Eagles actually trailed the game for most of the first half before the HRV defense stepped up and gave the Eagle ground game a chance to get going.
Alex Jimenez broke up a fourth down fake punt pass attempt by the Lions midway through the second half and moments later Broddie rushed for a 37-yard touchdown with just over three minutes left in the first half to give the Eagles a 14-10 lead.
Jimenez came up big on the next St. Helen's possession, picking off a Gage Bumgardner pass to set the Eagles up in good field position.
Luke Kopecky capped the ensuing HRV drive with a one yard touchdown sneak to extend the lead.
Seconds before halftime the Eagles scored again when Kopecky hit Chase Young for a 17-yard touchdown and the route was on.
The Eagle defense smothered St. Helens in the second half, reducing the Lions to a pair of long field goal tries. The second of those, a 50-yarder by Nathan Reed in the fourth quarter fell 20 yards short of the uprights and rolled out the back of the end zone. On the next play Broddie went 80-yards for a touchdown.
Jimenez got the icing on the cake after a successful night on defense when he came into the game as quarterback in the closing minutes and sprinted for a 50 yard touchdown on an option keeper.
The Eagles will now be on the road for the next two weeks, with a key non-league test at Wilson next Friday before opening league play at Pendleton the following week.