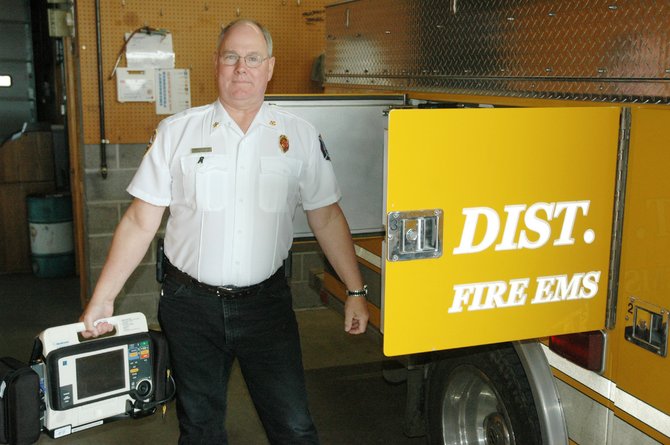 Wy'East Fire District Chief Greg Borton wears only one firefighter's helmet these days, but it wasn't long ago that he wore, figuratively, two.
Borton has been in the fire service for 35 years, spending the majority of that time with the Pine Grove Rural Fire District. Nine years ago, he became fire chief of the Odell Fire District while still holding the fire chief position in Pine Grove.
For seven years, Borton had double the fire district meetings, double the budgets and double the paperwork.
"It did take a lot of time, but it went with the territory," he said.
Two years ago, the Pine Grove and Odell fire districts merged to form what is now the Wy'East Fire District, of which Borton still serves as fire chief. And while the merger has been successful, it was initially a tough sell.
"The merger took a lot of time and energy. It was trying to convince the steadfast members of both districts that in the end, this would work out and be beneficial," Borton said. "That was a hard sell because in Pine Grove there were many family generations in the fire department, and it was hard for them to lose that individuality."
Part of Pine Grove's individuality is its red fire engines; Odell's engines are yellow. The separate districts had each planned to order a new fire engine before the merger, and those two new vehicles will be arriving within the year, Borton says—one red, one yellow.
"It's one of the things that a medium ground had to be met, but it's worked out good," Borton said. "There were a lot of wild (colors) thought of, believe me."
Eighty percent of calls received at the station are emergency medical services calls. "We have a dedicated group of emergency medical technicians and emergency responders here," said Borton, who adds that the Wy'East Fire District is also supported by the Hood River and Parkdale fire departments, who send ambulances in an emergency, a practice known as mutual aid. Occasionally, people stop in at the station to ask questions, get blood pressure checked or because of a medical emergency.
"Our doors are always open," Borton said.
The station serves the community in other ways as well — teaching CPR and first aid classes, fire prevention and education, and even checking smoke detectors on request. And, of course, there are the emergency calls.
"We respond to all fire and EMS calls, public assists and false alarms," said Borton.
The department is continually growing. About a year ago, the station hired Lt. Tiffany Peterson as a full-time EMT training officer. She also responds to calls.
Another result of growth is a need for volunteers. The fire district is always looking for new volunteers, firefighter and EMT alike, said Borton.
"Anyone can come and pick up an application and go through the process," he said. "If they're selected, they can become a very important part of their community."
Borton's duties as fire chief include an overall responsibility for the district, as well as completing budgets, ordering new equipment, and conducting fire inspections of local businesses. He works closely with Hood River Building Code officials when new buildings are built, and teaches fire prevention and education at schools and daycare centers.
Borton also serves as president chairman of the 9-1-1 User Board, which works closely with the 9-1-1 Dispatch Center. This is an elected position, chosen by a board composed of members of the Hood River County Sheriff's Office, Hood River Police Department and the Oregon Department of Forestry.
"In this position, you get to see a lot of things happen in the community," said Borton. "We're there to help people. Of course we see the good and the bad of it. We can go help somebody and there's a good outcome, and then go to another call with a bad outcome.
"All in all, it's a rewarding job, and I wouldn't trade it at all. I enjoy helping people, and I enjoy my volunteers and my officers. It's a pleasure to be here and serve the community."