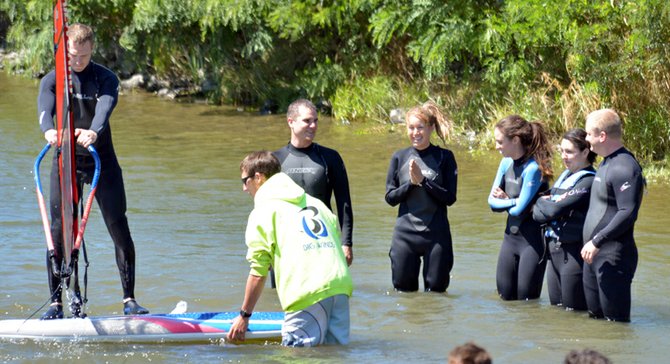 Although an official record of this type is hard to qualify, July 2013 will go down in the boardhead recordbooks as one of the windiest months the Gorge has seen since the invention of epoxy resin and neoprene. And while gardeners, construction crews, outdoor wedding vendors and neighbors chasing runaway trash cans down streets were afflicted by it, staff at many local businesses took a breather this week and gave the wind due credit for what they're calling a very busy, and very good month.
"Good wind is good for business," said Matt Luchsinger, sales staff and weekend manager at Big Winds in downtown Hood River. "What we sold the most of in July was small gear, both kites and sails. With so many consecutive days of high wind, people who came to town without small gear couldn't get out on the river with what they brought."
Officially, the 24-hour average wind speed for a weather station near the Hood River Waterfront Park was 8.2 mph for the month of July.
"As far as a number goes, it's not all that impressive to look at the monthly average," explained Larry Spellman, who runs a popular blog for weather geeks and atmospheric aficionados (hoodriverweather.info). "But July was impressively windy. The data is an around-the-clock average that includes nights, which are much less windy. At HOXO (weather station at Mid-Columbia Agricultural Research Center on the Heights), this was the windiest July on record since 1989."
For those who want more confirmation, even Bart Vervloet — the familiar voice and character behind the former "Bart's Best Bet" wind forecast for 22 years — conceded that this July was one to remember.
"It was a good month to be a wind forecaster because it blew every day," he said Wednesday from the Gorge Surf Shop on Oak Street. "And not only was it windy, it was exceptionally warm and windy. If you look at temperatures to the east, in eastern Oregon and Idaho, they were really high last month. That's the real wind engine around here in the summer."
Additional data from the waterfront park site, labeled MBPHOO on www.wunderground.com's weather station locator, shows daily maximum wind gusts for the month. Every day of July saw gusts of at least 20 mph, with about half near 30 and the highest (July 4) reading 39 mph.
Relatively new to the local wind-sports scene, downwind stand-up paddling in the Gorge has exploded in popularity in the last few years and saw a spike in action last month as paddlers on long, narrow boards made specifically for riding rolling swell took advantage of the classic Gorge conditions in a new way.
"The Gorge has become one of the best-known places in the world for downwind SUP," said Luchsinger. When the wind rips through the Gorge and the swell gets big, runs here are comparable to the world famous ones in Hawaii."
Luchsinger said Big Winds' new shuttle service for downwind SUP and kiteboarding, which drops off at Viento State Park, was popular enough in July to necessitate one or two shuttles almost every day of the month. He also said, as expected, windsurfing lessons through the shop were well-booked through the month.
At the Gorge Surf Shop, longtime staff member Gary Koop briefly reflected on his years in the Gorge.
"I've been in the Gorge for almost 25 years and this has been one of the windiest summers I can remember. One thing that is different now from the old days is how much more people rely on forecasts to determine if they'll come to town. There were several days that weren't forecasted to be windy but were."
"Predicting anything past about three days around here is just guessing," Vervloet added. "Things just change to fast. I always tell people, don't bet against the wind here; you'll be wrong most of the time."