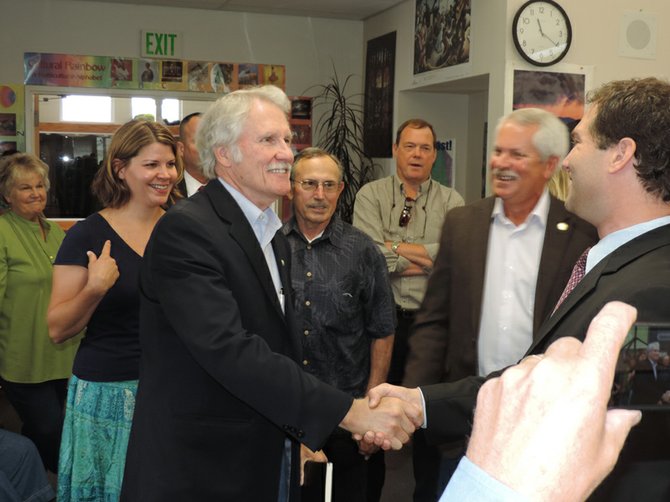 Local government officials told Gov. John Kitzhaber Wednesday they support his call for a one-day special session of the Oregon Legislature to deal with education funding reform including revisions to the Public Employee Retirement System.
Kitzhaber is calling for a tandem package of cutbacks PERS payments and new revenue, emphasizing that PERS payments were earned by the employees, but is also calling for shared sacrifice in order to stabilize the system.
PERS liability is creating an increasing drain on resources for agencies such as public schools. PERS payments will account for 14 percent of the Hood River County School District budget in 2013-14, up from 8 percent in 2012-13, according to District Finance Manager Nick Hogan.
Kitzhaber spoke at one of three events he termed "Round Table on Education Investment," at Hood River Middle School library, attended by about 40 members of the public in addition to a long slate of local officials. Other round tables took place this week in Happy Valley and Salem.
"I'm traveling to talk about the possibility of having a special session, a one-day special session to try to craft something around those parameters so we can come back in 2015 and really make a very significant investment in our schools," Kitzhaber said.
"There is some equity balance in equation here, if we are making some modification in the cost of living adjustment, which essentially reduce cost," he said.
"I think we all need to pitch in to some extent and also add some resources to the pot. If you just do the PERS change you still have teachers cutting school days and laying off teachers, and the objective in the end is stabilizing our system of public education."
Kitzhaber told the Hood River assemblage that now that education funding is "stabilized," he wants the Legislature to reconvene and talk about "significant" reforms.
Round Table participant Dan Goldman said "stabilized is really a misnomer."
"Yes, things are more stable, but they are only stable until we have our next crisis. It's like we're all saying, 'Well, we made it out of this,' but we're not prepared for when the next crisis comes," said Goldman, the new superintendent of Hood River County School District.
"Stay in Salem as long as it takes to deal with it this time," he urged Kitzhaber and fellow round table members Rep. Mark Johnson and Sen. Chuck Thomsen, both Hood River Republicans.
"You have the ability to lead, and we have legislators who are in a position to lead," said Maija Yasui of the Hood River County Commission on Children and Families. "We can't wait for the economy to come around. We need to do something now and it's an opportunity to do it."
Kitzhaber decried the "unfinished business and a lost opportunity" for stable education funding in the 2013 Oregon Legislative Session, and stumped for the one-day chance to try again.
"It's not about a pejorative conversation all, it's about the math," Kitzhaber said, pointing the school districts' average $1,000-per-student increase in overall costs in 2013-14, half of which is due to districts' rising PERS liability. He noted that in the stock market crash of 2008, there was 27 percent loss of value to PERS fund, "amounting to a significant increase in employer contributions."
"My point, and I've been very transparent about this, the crisis in schools is no longer just a revenue problem, it's also a cost problem, and we need to try to address both those. So we tried to come in with what I felt was a balanced approach, that did not take the benefit away, modified the cost of living adjustment," Kitzhaber said.
"The Legislature passed a piece of that, it was my intention to try to get this issue off the table for a long, long time and stabilize that retirement system; but also give us the ability to make investments in our kids today so they can be successful tomorrow. So the Legislature left on the table this additional piece around the COLA and about $200 million. That amounts to an additional $340 per pupil."
He said the legislature also left on the table $20 million to community college support fund to help reduce tuition increases in community colleges.
Kitzhaber's table mates at the Hood River event included Mayor Arthur Babitz; Hood River County School District officials including School Board member Jan Veldhuisen Virk; County Administrator Dave Meriwether; Columbia Gorge Community College President Dr. Frank Toda, parent Heather Staten, and 2013 HRVHS (and PERS scholar) Brendan Kerr.
Meriwether said he backs the special session idea, and said "we need to get PERS off the table to have a significant discussion of economic reform, and the sales tax needs to be part of it."
Babitz agreed, saying, "The state is ready for an adult discussion of revenue. Addressing PERS completely now will let that discussion happen."
Kitzhaber in his remarks indicated that the idea of sales tax was a logical one, but he clarified in a later interview at the Hood River News that he was not advocating at it as option within a reform package.
He told the round table, "It is time to have, once again, our every-10-years-discussion of our unstable public finance system. It's one of the big problems we have.
"Since Measure 5 the biggest funder of the state education system is the state general fund, and that relies almost entirely on personal and corporate income tax, and when the economy has a hiccup the bottom falls out on school funding. You can't educate a kid with good funding one year, bad funding the next year, and we need to stabilize that.
"Another reason to address the pension cost is I think it's a very difficult case to make to people, if you're going to raise a couple billion dollars to invest in education, if the first 25-30 percent of that doesn't get into the classroom.
"There's a short-term challenge and a long-term challenge, and I appreciate there are a lot of school employees and I understand that this is a controversial issue and I'm trying to ask you to try to look at the long-term strategy of both stabilizing and reinvesting in our system of public education and try to fix our very narrow and unstable tax system.
"By real investment, I mean we've sort of stabilized the system, now we need a normal school system, we need to start adding back school days, adding back teachers and counselors and school employees at all levels," Kitzhaber said.
Thomsen said that during the 2013 session, Kitzhaber "has done a great job, he got a lot of bipartisan support" and achieved much including reforms in public safety, health and education, "but he did not succeed in what he wanted in getting more PERS money to education.
"It kind of came down the last few weeks of the session and it was more politics than anything and I think that's why the governor took a step back and said 'Let's take a look at this after we get away from the session,'" Thomsen said, "because the last couple weeks in the session were pretty brutal and I think cooler heads will prevail. I support the governor in the (one-day session)."
Thomsen then mentioned "a couple of little things that I'm cautious about," including, "if we go in for $200 million in taxes there is no guarantee these PERS fixes will make it through the court system, so it's tough to vote on one thing and not knowing if the other thing you're voting on is going to make it."
Contrary to how it was done in the 2013 session, votes on tax issues and PERS "need to be coupled together, and go hand in hand," Thomsen said, "and if we're going to have tax increases tied to PERS, make it all one vote, so one House or one side of the political spectrum can't change it in mid-stream, and I'm sure the governor has already thought of that."
Johnson said of Kitzhaber, "He did put the issue in front of us, because the governor's recommended budget did include PERS reform. He put it on our plate and we tried to deal with it. There were many PERS bills presented, some of them pretty complex, and the thing I was frustrated by was the inability to have public hearings on the topic.
"The (House)) Speaker (Tina Kotek) didn't feel she wanted it to happen, so consequently most of the discussion happened in members' offices, or off line, so it was very difficult to have an open conversation about the topic, and as you know it's a very complicated issue. That was part of the frustration was right up until the end, trying to education members about what we were talking about; what was the significance of the unfunded actuarial liability is, what COLA is, what money match is, what the full formula is, all this stuff is, it's a deep topic and it takes some understanding."
Referring to the so-called attempted "grand bargain" on PERS reform, Johnson said, "I guess I would refer to it more of a grand exchange because what was on the table for us was some degree of unfunded actuarial liability reduction on PERS in exchange for some revenue.
"Well, part of the problem of the dynamics you run into, as I see it and Chuck may disagree with me on this, is it's hard to make an objective case and say the state necessarily needs more revenue right now. We have about $2 billion in this biennium to invest over the previous biennium and as you all know we put a significant investment into K-12.
"To say there is going to be additional revenue, as I see it there needs to be something in there to help disperse economic growth because we all know K-12 really is funded through the general fund. There we can do more economic growth, put more resources into general fund, which will put more resources into our classroom.
"I think that the pieces are there, it's just a matter of tinkering them in a fashion that gets us to yes.
"As a school board member I've seen the impact on our schools here, taking dollars out of the classrooms away from kids," Johnson said.
Kitzhaber agreed with Johnson on the economic development, and said, "At the end of the day we're trying to find some certainty and cost reduction for small businesses, including a personal property tax reduction targeted at small businesses and targeted capital gains reductions for reinvestments for reinvestment for state of Oregon, and those were really intended for those points that Mark made, stabilizing the budget, getting more money into schools."
Goldman, hired in Hood River July 1 to his first superintendent post, said, "There is a long-overdue conversation on revenue and cost-drivers," and he joked that "I love disagreeing with my new boss," over Kitzhaber's statement that education funding has stabilized.
"There has been a long, slow disinvestment in public services, especially in K-12 education," Goldman said. "It's more of a PERS cost driver conversation. There has to be a revenue discussion, too."