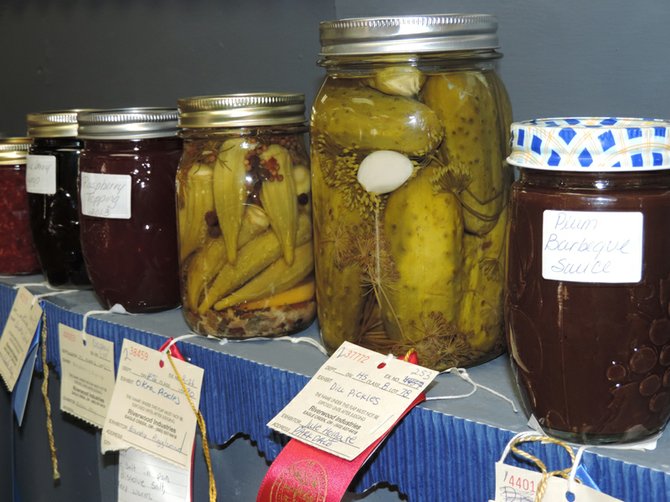 The start of the food preservation season can bring mixed emotions for me.
On the one hand I am thrilled by the plethora of fresh, local fruits and vegetables and the opportunities we have here in the Gorge to put up just about any kind of fruit, vegetable or protein through canning, drying, freezing, or fermenting. On the other hand, I dread hearing from folks that they have followed an out-of-date recipe, used an untested pressure canner, or worse — gotten sick from something they preserved.
I respond to about a dozen questions per week from folks here in the Gorge regarding food preservation. Our team of Master Food Preservers respond to even more questions at the farmers markets around the area where they provide food safety information.

The hardest part of our job is to tell folks that they better be safe than sorry and throw out the jars of food they preserved because they may be unsafe.
Last week, we were reminded of this by the airing of an interview by Austin Jenkins of NPR with Mike O'Connell, of Washington state, who nearly died of botulism after eating his own improperly canned meat. The full recording of the story and transcript can be found here: http://bit.ly/16YkcUz.
Stories such as this send ripples through the food preservation community and often scare people enough that they avoid preserving altogether. My hope is to provide a few tips and reminders so that you feel empowered to preserve — not paralyzed by fear.
Dial-gauge pressure canners MUST be tested every year for accuracy. Local Extension Offices in both Wasco and Hood River counties do this for free and often on-the-spot — though call first if you want to come in and have your canner tested right away: Wasco, 541-296-5494; Hood River, 541-386-3343.
Tested, current, approved recipes MUST be used when preserving foods to ensure safety. The OSU Extension website and the National Center for Home Food Preservation provide an abundance of tested recipes that, when followed exactly, will result in a safe product that can sit on your shelf without the potential to develop botulism. Be wary of recipes that are older than 1986 (processing times changed that year) or those that don't provide details about headspace, processing time or other key recipe information.
OSU webpage: http://bit.ly/13AQupZ.
NCHFP webpage: http://bit.ly/11I5otu.
Getting a good seal is only part of the equation. Just because your jar sealed doesn't mean your process has rendered the food safe. Many folks simply invert their jam and jelly jars after filling and rely on a "thermal seal" which can still result in the proliferation of molds, yeasts and other bad bacteria. High-acid foods like fruits still require processing in a boiling water canner, which reaches 212 degrees Fahrenheit, to be shelf-stable and safe.
In low-acid foods like meats, seafood, vegetables and mixtures a sealed jar means an anaerobic (no oxygen) environment now exists and this allows for the botulism bacteria spore to begin producing deadly toxin. Low-acid foods must be pressure canned for the appropriate time, at the appropriate pressure in a pressure canner (not a pressure cooker) which can reach 240 degrees Fahrenheit — hot enough to kill the spore.

Ask the experts if you have questions and don't go it alone. OSU Extension operates a hotline throughout the preservation season to help answer your food preservation questions: The hotline at 1-800-354-7319 runs 9 a.m. to 4 p.m. Monday, Tuesday, Thursday and Friday from July 15 to Oct. 11.
You can also email me at Lauren.Kraemer@oregonstate.edu and I will help answer your questions. We are also offering our first set of pressure canning classes this season next Tuesday and Wednesday. The classes will go over the pressure canning process and everyone will get to take home a safely pressure-canned jar of food as well as lots of recipes and resources.
The Hood River class will take place Tuesday, Aug. 6, from 6-9 p.m. at the OSU Extension Office at 2990 Experiment Station Drive.
The class in The Dalles will take place Aug. 7 from 1-4 p.m. at the Zion Lutheran Church at 101 W. 10th St. Pre-registration is preferred and can be done on the Community Ed website: www.hrcommunityed.org.

The next pressure canning classes this season will take place Oct. 22 and 23.
When in doubt, throw it out. If you have received a jar of food from someone, don't hesitate to ask how it was processed and what recipe was used. Your health is irreplaceable and good preservers should be able to describe their process in detail. If something was processed poorly or you have concerns, throw it out. If jars of food are oozing, leaking, bulging, popping, have an off-odor, mold, or spurt liquid upon opening — do NOT taste-test the contents; throw out the food and sanitize any surfaces that came in contact with the food.
There is nothing like opening a home-canned jar of vine-ripened summer tomatoes in the middle of January to give you a sense of pride in your accomplishments — especially if you know that jar was safely processed and there is no need for concern or second-guessing your recipe or methods as you enjoy it.
Happy preserving!
n
Lauren M. Kraemer, MPH, is a member of the Extension Family and Community Health Faculty for Oregon State University/Wasco and Hood River County Extension Service.