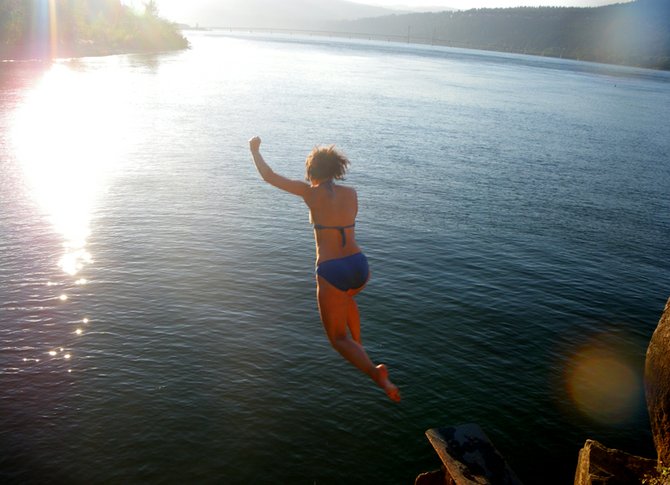 A quick dip in the Columbia at Koberg Beach State Recreation Area is perfect for those hot summer evenings when you get off work and want to cool off and enjoy the last hour of sunshine but don't have the time or energy to venture far off the beaten path.
Historically, Koberg was once a massive and popular beach where Gorge residents cooled off, played on a variety of man-made swimming stuctures and enjoyed the calm section of free-flowing Columbia just a few miles east of Hood River (see historic image at right).
These days the beach is smaller, but still big enough for several lounging families; and instead of the slides, docks and hamster wheels of the past, the popular feature is the series of rocks and flat spots along the cliff for jumping.
As a necessairy word of caution, cliff jumping anywhere comes with obvious and inherent dangers and should done with common sense and caution. That said, the lower heights of Koberg rock are (relatively) safe for jumping, and offer sweeping views of the sun setting behind Hood River while sailing through the air.
To reach the beach from Hood River, you have to drive to Mosier, turn around and take the first exit. The beach is located down a short path to the northwest of the restrooms.