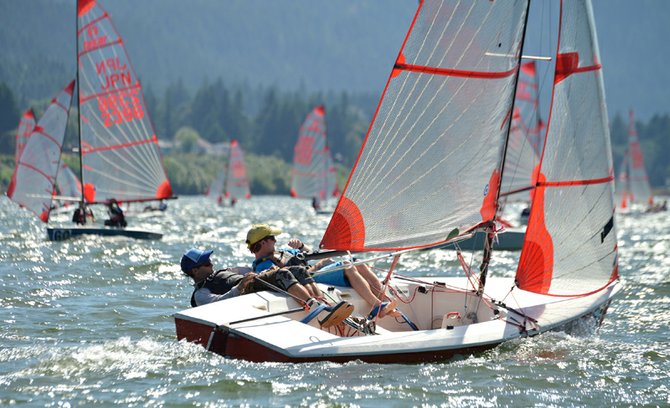 Like a colony of fire ants chasing one another in well-orchestrated lines and patterns, a massive fleet of racers with nearly identical boats and bright red patterned sails have been tacking and jibing in front of Cascade Locks all week during the 2013 Tasar World Championships.
The week-long sailing event, run by the Columbia Gorge Racing Association, started Aug. 10 and wraps up with final racing Saturday afternoon (wind-dependent), when new world champions are hailed for this specific type of two-person, 14-foot dinghy, called a Tasar.
A strong showing from U.S., Canada and Australia and others from Japan, Great Britain and the Netherlands make up the fleet of 59 racers who, in pairs of two, have been running courses all week — usually three per day — in a lowest-score-wins format of racing.
Among the international field, two Gorge-area teams are representing the local sailing scene. As of deadline Friday morning, Jamie and Andy Mack were in 13th place with 121 points and Phiilip Gordon and Jonathan Cannard were in 16th with 135 points. The points leaders before the day's heats were the Seattle-based duo Anthony Boscolo and Haley Lane, with a low score of 33 points.
Teams get points according to their place in each race (1st place is 1 point, 2nd is 2 points and so on), points are accumulated throughout the week and the lowest scores rate the best.
This is the second time the Tasar Worlds have come to Cascade Locks, with the first in 1996 sparking the formation of the CGRA, which now hosts a full schedule of championship-level sailing events every summer based out of its Cascade Locks Marina headquarters.
CGRA also hosts free community sailing nights Thursday through August, the final two of which are Aug. 22 and Aug. 29.