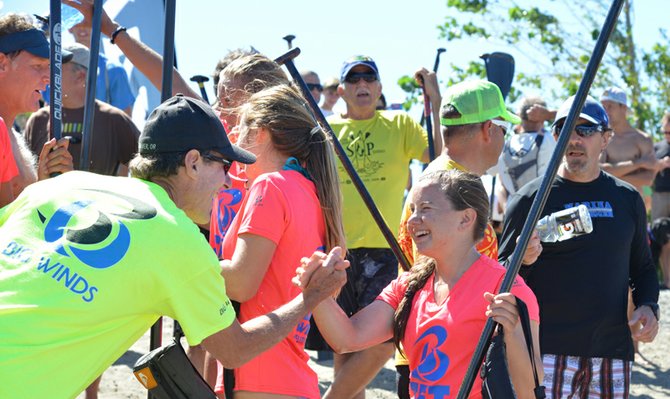 Local success at the Naish Columbia Gorge Paddle Challenge shouldn't have come as a surprise to anyone, especially for the dedicated group of young athletes who have been putting in long, hard, and oftentimes early hours in preparation for the races that took place over the weekend.
For many competitors, top finishes at the event can be attributed to training sessions with the Big Winds Junior Program, which is divided into a more experienced Junior Elite Team and a Development Team. The group of 30 boys and girls has been practicing Tuesday through Friday all summer, starting promptly at 6:30 a.m.
The Big Winds Junior Program is one of the first junior SUP teams in existence and is now, by far, the biggest, according to Steve Gates, head coach and team manager.
The strategic training regimen implemented by the team's coaching staff consisted of many exercises that set them up to excel in downwind and course races.
"The team was focused on fundamentals and good paddling technique with some distance, course racing, and relays thrown into the mix," explained assistant coach Gregg Leion. According to Leion, the team benefited greatly from training in a tight pack and dealing with a lot of chaos on the water. When they got into crowds on the course during actual competition, they were comfortable and knew how to battle through it.
"The Paddle Challenge was the focus from day one of training," said Gates, who was all smiles over the weekend watching his young athletes excel against a field of nearly 200 competitors. "For these kids this was their world cup, everything we've been training for was on the line this weekend and they certainly rose to the occasion."
First-place overall Elite Women's division finisher and JET team member Fiona Wylde described her training: "I don't like getting on a board and just paddling for a bunch of miles," she said. "I like to mix it up with distances, sprints, buoy practice, and team relays."
Like many SUP competitors, Wylde spends a lot of time with her feet dancing on top of a board, albeit not always a paddle board. She is also a top-ranked competitive windsurfer and wave paddler who can credit a great deal of her strength and agility to her multi-disciplined training approach.
Wylde appreciates the fun yet demanding environment provided by the junior team. "We do a lot of team relays which are great for our team because it doesn't matter what your ability level is; everyone is learning together and pushing each other," she explained.
Sam Davies, 16-year-old JET team member, finished first in her age group in Sunday's course race and second in the downwinder the day before.
"All your teammates encourage you to do your best and Steve gave me a lot of tips," she said. "I wouldn't have done as well without them." Davies not only had her teammates out there supporting her, but her father, Jon Davies, also competed last weekend and came in first in the Men's Open course race. "It was fun to have my dad out there because he gives me encouragement when he paddles up next to me, even if he's going to pass me," said Davies.
Another top-tier local athlete, Jax Mariash, competed in the Elite Women's division in her first-ever SUP race. Mariash, a competitive triathlete and duathlete who is adding SUP to her sporting repertoire, described her experience: "The headwind here is really hard and it forces you to learn a new technique," she said. "The advanced SUP athletes know how to flip their paddle, move their bodies and position themselves to whip around the buoy."
Mariash said she was impressed by the skill level of the Big Winds Junior Team members and their comfort level paddling in a tight pack.
According to Gates, "many of the elite athletes who were in town for this event, some of whom are running junior programs back home, were blown away by the fact that we have so many kids paddling this well who are this committed."
Wylde admitted to being nervous about competing against a field that consisted of seven out of the top 10 female standup paddlers in the world. "I just gave it my all and had nothing to lose so I went out and had the most fun I possibly could and took advantage of every swell that went by."
While many of the local athletes who competed in this year's Paddle Challenge already have their sights set on next year, a few will continue their season with a trip to Dana Point, Calif., Sept. 28-29 for the Battle of the Paddle, North America's premier SUP race.