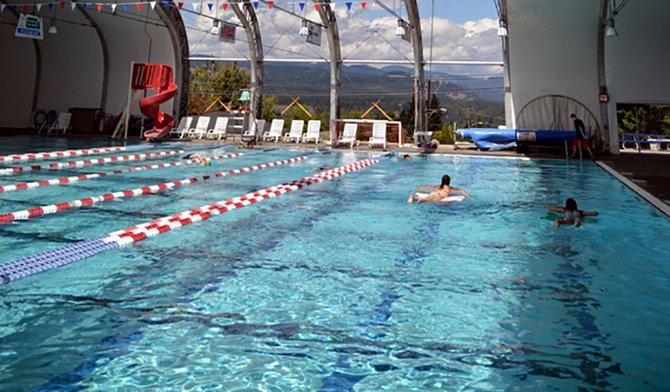 The Hood River Aquatic Center has a long and vibrant history as the county's public swimming pool, dating back to its pre-remodel seasonal days when it was lined with 10-foot-high green fencing and the Summer Swim Bus picked-up and dropped-off full loads of kids from as far away as Parkdale to spend the day lounging around in the sunshine and helping lifeguards get good use out of their whistles.
These days the pool is open year-round, thanks to a retractable cover that is drawn back most of the summer, and is heated to a comfortable 82 degrees, thanks to a solar water system installed several years ago. The two small wading pools at the west end are kept even warmer, at about 92 degrees, making the pool an excellent option for playing in the water when, like the last couple of weeks, late August weather acts more like April.
The facility, owned and operated by Hood River Valley Parks and Rec, is open seven days a week, with open swim hours daily from 1-5 p.m. and weeknights from 7-9 p.m. Off-hour activities include lap swimming, swim lessons, water aerobics, kayaking, multiple swim team practices and water polo practice, as well as special party room that can be rented in hour increments for special events.
The pool is lined with bleachers and lounge chairs and the ceiling setup provides both sunny and shaded areas for swimming and relaxing. A rope swing, slide, water-basketball hoop and obligatory floating objects provide additional options for those in need of a little extra entertainment.
As part of annual maintenance, the pool will be closed from Sept. 3-12, reopening Sept. 13 at 8 a.m. Special rates of $1 are set for Monday and Wednesdays, 1-5 p.m. and Fridays from 7-9 p.m. Regular rates are $2.50 for kids and $3.50 for adults who reside in the county.
HRVPRD was created by voters in 1988 and has since helped provide recreational needs of the community through the aquatic center, the skate park and several parks and trails. For a complete list of pool schedules and activities and HRVPRD info, visit hoodriverparksandrec.org.