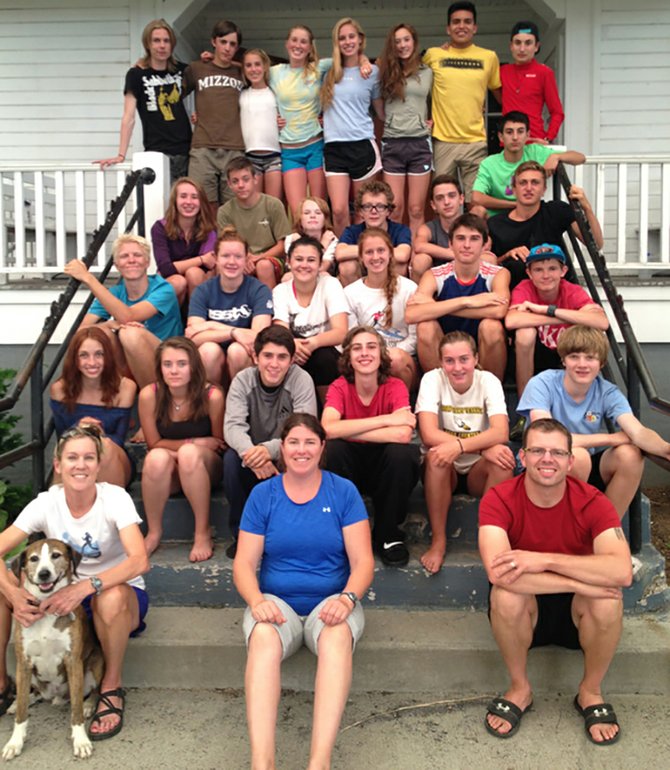 Upbeat.
That's the attitude Hood River Valley High School cross country coach Kristen Uhler has about the upcoming running season, and although the longtime coach and avid runner is well-known for her think-positive, be-positive outlook, she has a lot more than simple optimism to back her expectations of an outstanding next few months.

"I've never seen a boys team as focused as the one we have this year," she said Monday after a two-hour morning practice. "And on the girls side we have a returning state champion, some great seniors and a really strong group of younger runners. It's going to be an exciting season on both sides."
The team returned late last week from its annual "daily doubles" running camp, which had a modified itinerary due to Cloud Cap Road being closed for the season. Instead basing from the historic Cloud Cap Inn and running high-altitude routes in the area, the team camped at the Mt. Hood Town Hall and took day trips to Timberline and Lost Lake.
The team continued to train mornings this week to prepare for its first meet of the season, the Wilsonville Night 3K on Thursday.
Uhler said she's expecting a repeat of last year's Columbia River Conference title for the girls and an improvement on the squad's fifth-place finish at state, while the boys will push to give last year's dominant Hermiston squad a run for its money as the CRC's top team.
She places a strong emphasis on leadership from the team's more experienced runners and team captains, who will be Ricardo Castillo and Jorge Cuevas for the boys team and Grace Grim and Althea Dillon for the girls.
"We have some great team leaders this season," she said. "But they'll all be fighting for those top seven varsity slots. And that's exactly the dynamic we want. We want our runners pushing each other and battling for those spots."
On the girls side, Grim is back to defend her state title after taking the spring track season off due to a leg injury. Grim, now a senior, beat out CRC rival Maggie Coleman for the district title and went on to surprise many in the state, including herself, with an 18:40 first-place finish.
Grim and fellow senior Dillon will look to fill a leadership role amongst a field of very promising young runners, including junior Madison Freeman, sophomores Sasha Bockius, Denali Emmons and Lauren Robinson and freshman Daisy Dolan.
Bockius, Uhler said, is one to keep an eye on this season. "She has been running all summer and is super-fit. You can just see the fire in her eyes. It's exciting."
Last season, Bockius posted the third-fastest time in the CRC, behind Grim and Coleman.
"The girls' summer training has been pretty good, although not quite like the boys," Uhler said. "They have really come together in an impressive way this summer. They've been organizing runs on their own and are extremely focused. It's going to be exciting to watch this season."
Castillo and Cuevas will lead a larger field of potential varsity runners, who will battle for the team's seven varsity slots. Justin Crosswhite, Quinn Fetkenhour, Carlos Chairez, Nils Engbersen, Charlie Sutherland and Juan Karlos Rios are all expected to be atop the team's list.
The HRV boys will have their sights set on matching Hermiston's lineup, which claimed the top four spots at last year's CRC meet and finished third in the state.

The team has only one home meet this season — the annual Hood River Invitational in memory of Skip Sparks and Bob Sullivan on Sept. 11.