The long hallway at Hood River's "speakeasy" is now a matter of choice.
Owners Tom and Holly Wood of Rivertap have just completed an extensive expansion project, after just over a year in business.
Fold-out doors tie directly to the sidewalk and give the restaurant a connection to Oak Street it has never had, putting their business literally in a new light.
The Woods have also hired a new chef, Matt Ellingson, who has created a dynamic new menu that emphasizes Rivertap's major shift to restaurant first, bar second. The restaurant holds its grand reopening this weekend, including live music in the dining room just off the street, starting in the evening. (See Entertainment Update, A3, for details.)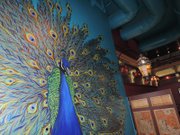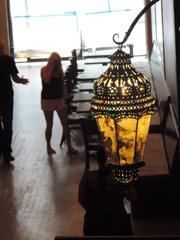 "It is not so much of the cave as it's traditionally been known as," said the Woods' new general manager, Katie Wallace. Entrance to the bar is still down the long hallway that until this week was the sole entryway. Those wanting to avoid the bar can enter through a new door on Oak Street or via the folding door, if the weather is good.
"Rivertap is coming to the light," Holly Wood said. (Apple Green garden store, formerly in the expanded space, has moved to 12th and Pine Streets on the Heights.)
Tom said, "in Hood River in summer time people want to sit outside and eat and drink and in the winter we're all vitamin D deprived, we want some sunlight, and we realized we need that kind of presence on Oak Street, for the natural light, and to make it inviting for everyone."
The Woods also own Rivertap in The Dalles, and Taco del Mar in Hood River. They opened the Hood River Rivertap in July 2012.
That earlier time for music is also part of the big change in the way Rivertap does things. Tom Wood said the remodel and expansion came about largely because of concerns over noise intrusion to neighboring Hood River Hotel, which had told the Woods for months that music from the bar was disturbing guests at the hotel, and finally called the police, who issued a citation for violating the noise ordinance.
There was a night in April when the $1,000 sound measuring device bought by hotel recorded the noise at over the 50-decibel level. The Woods went to court, and were found guilty and fined $350. It is an expensive lesson that the Woods took to heart.
Tom Wood recalled that "the two big things we identified were when we first opened, which we addressed and continued to address, were that we share a wall, where there is unreinforced masonry between the two buildings, two brick walls against each other.
"We saw early on that our sound was passing through the walls, and a sound engineer created a three-part sound wall on the east side, and sound insulation into the floors and ceiling, trying to address the fact that sound was literally able to pass through into the hotel," Tom said. "We were working with hotel staff to try to identify how it's getting through and the sources, and we worked to try to resolve it, and it's been really difficult.
"We did administrative things to try to manage the sound — schedule changes, and we put a maximum sound level for music, and we had people actively monitoring the ambient sound. As a function of that we realized this isn't going to work; the way we'd been trying to address the sound and the business around it," Tom said.
"We saw that we just have to make a complete shift in our business model, and that's where we were headed," Tom said. "This is significant because it relates to our downtown business partners, so we're taking it very seriously.
"We're good listeners and kind of heard what the community has asked for from us and we're making changes to meet the community's request," he said.
"Mainly, we want to be good neighbors," Holly said. "We don't to disturb the hotel guests or anyone else."
Cathy Butterfield, general manager at the hotel, said, "The most important thing is just being good neighbors. In a small community that's what keeps us all going. We're happy that Holly and Tom hope that this will be a good solution. I think they are really nice people, and yes, it if closes earlier than 2, that will help resolve it."
Butterfield said that "the last four weeks, we have had no complaints. The decibel reader is right down to where it should be. We had so many complaints, we're just glad we've come to a solution that has resolved it, hopefully.
"It needs to keep them happy for business. It's not just about making us happy."
Music will generally start earlier in the evening, and will be located near the street, with Taco del Mar (also owned by the Woods) providing a sound buffer. Sound levels will also be lower and the music will end earlier, Wallace said.
Rivertap's new hours are 11 a.m. to midnight, with the full menu available at any time.
"This really gives us the opportunity to highlight our food, which maybe has been a little bit missed because this has been maybe a little bit more of a speakeasy bar presence, and now that we have this light and a great chef," Wood said. "We want to create a balance of fun nightlife, great music, but some really great food as well."
"We are excited to have more of a street presence and daylight and the draw off the street," Holly said.
Menu items range from balsamic soy-glazed ribs, Beef Wellington and burgers, to Spanish prawns and calamari, sandwiches such as deep-fried chicken, and wraps including chicken pesto, Caesar and tomato walnut.
Tom said Ellingson and his staff will "cater a lot to vegetarian and vegan diets, and we'll be good about the chef jumping out to the dining room and contouring the dish to what they need."