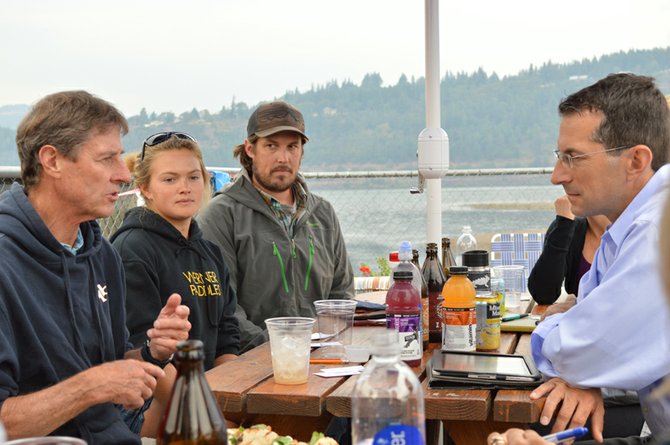 The recreation industry may be thriving in Hood River, but local business owners aren't taking their current prosperity for granted.
Last week, a consortium of local business owners and recreation stakeholders held a meeting with staffers from U.S. Sen. Jeff Merkley's office to raise concerns about issues affecting recreation in Oregon and to ask for the senator's support.
Approximately a dozen people braved the rainy and smoky weather Thursday afternoon to welcome Merkley's chief of staff, Michael Zamore, and Susanna Julber, field representative, to a meeting down at the Sandbar Café.
The meeting, which was put on by Erin Brosterhous of Inside Out PR and Susan Dow, owner of the Sandbar Café, was held down by the waterfront to show Zamore and Julber the popularity of recreation in Hood River. Even with the pall cast by smoke from the Government Flats Complex of wildfires burning southwest of The Dalles, the waterfront was still teeming with standup paddleboarders and people out for a stroll on the sandbar.
In a roundtable discussion, business owners representing a diverse range of industries — everything from clothing, to lodging, to whitewater rafting — all agreed that legislation protecting the environment was key in ensuring that Hood River's recreation industry would continue to thrive.
"Things like air quality, trail quality and water quality all affect our businesses," said Ann Frodel, owner of the Gorge View Bed & Breakfast and a member of the Hood River Visitor Council. "Things that attract people here are the things we need to protect."
Steve Gates, owner of Big Winds, a board shop located in downtown Hood River, said Merkley's support of legislation that promotes recreation would in turn support other non-recreation-based businesses in the Gorge.
"The businesses that are moving here aren't necessarily recreation-based, but they're coming here because of the recreation," he explained. "When these resources are under attack, we hope you guys will give us the support that we need."
In particular, Gates expressed concerns over possible increases in coal train traffic in the Gorge, which he called "a very shortsighted solution to a very questionable goal."
Kurt Buddendeck, owner of Discover Bicycles, stressed the need for affordable housing as the population of Hood River continues to grow.
"There is a whole service sector to support these businesses," he said. "Where are they going to live?"
Zamore agreed and explained that showing the direct connection between protecting the environment and protecting business would curry wider favor amongst Capitol Hill politicians.
"We don't win any arguments if we just say, 'Polar bears are cute,'" he noted.
At the conclusion of the meeting a letter addressed to Sen. Merkley and signed by 28 representatives of local business was distributed to the staffers, asking the senator to "support continued investment in America's great outdoors" and "reject any efforts to weaken protections from national parks, forests, monuments and other public lands and waterways."