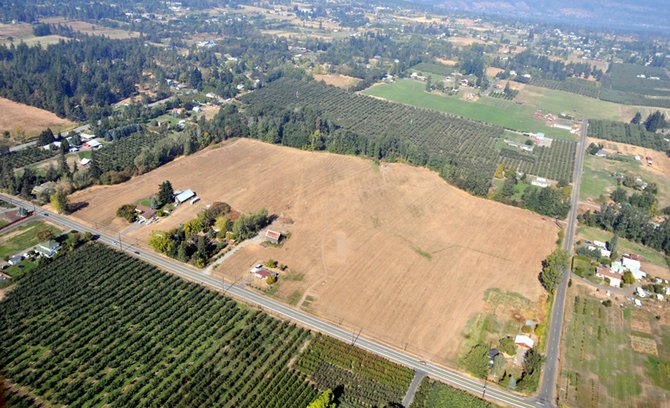 Hood River County Commissioners voted 4-1 Monday night before an audience of 25 people to once again deny a conditional use permit for Barrett Park.
The vote was identical to a preliminary decision made by commissioners back in August 2012, when commissioners voted 4-1 to overturn a Hood River County Planning Commission's decision to grant the park permit. County Commissioner Maui Meyer was again the lone dissenting vote.
The commission's decision brings an end — for now — to 20 months of meetings, appeals, and public hearings held regarding the 31.4-acre park proposed by the Hood River Valley Parks and Recreation District. The swath of land, which is located near the intersection of Alameda Road and Barrett Drive on the west side of Hood River, was planned to be used as an open-area park. However, the proposal attracted controversy in summer 2012 after Fritz von Lubken, a local orchardist, successfully appealed a decision by the Hood River County Planning Commission to grant the park permit, arguing that development of the park would take valuable fruit-growing land from farmers.
The Oregon Land Use Board of Appeals ruled that county commissioners made errors in their ruling and needed to reevaluate whether the park would "force a significant change or would significantly increase the cost of accepted farm or forest practices on surrounding lands devoted to farm or forest use."
The planning commission was unable to arrive at a decision during an October hearing about Barrett Park, and the ultimate responsibility befell the county commission. The public, nor lawyers for either side, could offer testimony and commissioners had to make their decision based on the record from the October planning commission meeting.
Commissioners struggled with trying to determine what LUBA meant by a "significant" impact.
"I'm not sure about what standard we're supposed to be using," Commissioner Bob Benton said during deliberations. "Initially when I went into this I thought, okay, well will it cause significant impact; but their wording on the remand says 'have the potential to cause significant impact' and so I'm concerned about — I guess, I'm a little confused about — how LUBA is interpreting that; and I'd like to have that discussion with commissioners this evening, about how they feel about that."
Commission Chair Ron Rivers had similar concerns.
"I know that's a nebulous term, but what's significant for me, as a farmer, may not be significant to another, but it all has significance, is what I'm trying to say," he explained.
County Counsel Will Carey told commissioners that "You're the ones that have to decide what that means."
Commissioner Les Perkins said he didn't feel that HRVPRD hadn't considered enough of the surrounding area in an analysis of park impacts on farming practices.
"After reading the record, I feel that the quarter-mile radius was insufficient, that the radius should have taken into account the routes to the park," Perkins said, and added that "it didn't appear that the farming community was consulted very heavily during the analysis."
Commissioner Karen Joplin agreed and believed that trespassing on neighboring farmlands would increase due to the park and compromise the integrity of the fruit that must meet strict certification rules in order to fetch top dollar at market.
"The piece for me about losing their certification directly affects their ability to sell their product. To me that's significant and to me, that would limit their ability to find best price," she said.
Rivers felt that HRVPRD also did not properly take into account local farming methods, particularly block farming, which involves farmers having to travel on local roads to reach different blocks of orchards that are not connected to one another. In an earlier hearing, park opponents stated that a potential increase of traffic heading to the park would affect farmers' abilities to reach their different orchard blocks.
"Not considering the block farming issue, I think, is significant, because if you look at the area, basically that's what it's made of," Rivers said.
Benton seemed to be on the fence, but eventually voted against the park.
"I think the impacts to farm ground by those opposed to the park were overstated; but that isn't to say there won't be impacts," he noted.
Commissioner Meyer, however, wasn't convinced about the level of impacts and voted to approve the park.
"The most confusing part to me as the farmer aspect was there were those in support and those opposed," he said. "I just really have a hard time believing that this will add this huge, significant impact. I feel like if it was so significant that there wouldn't be a farmer out there that would be opposed to it, I mean, in favor of it."
In a Tuesday morning phone interview, HRVPRD Director Lori Stirn said she had originally been "optimistic" that county commissioners would rule in favor of the park.
"I'm obviously disappointed," she said. "I think we have a good project that should be allowed by land use laws."
Stirn said she "respected" the county's decision but added that the HRVPRD Board would meet Dec. 11 during its regular meeting to discuss whether they would appeal the decision to LUBA again.