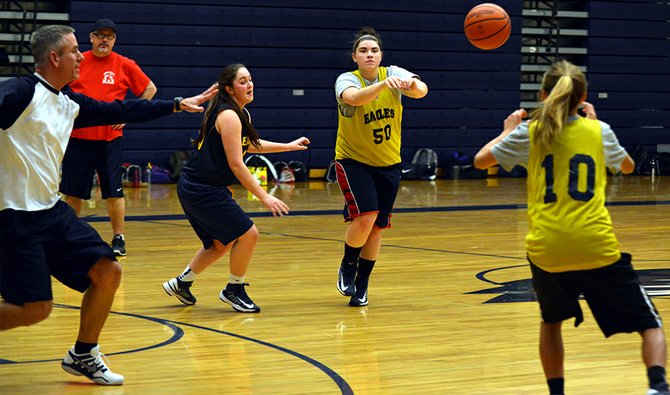 A new coach, a new core group of players and the optimism that comes with a fresh start set the tone for the Hood River Valley High School varsity girls basketball team as it kicks off the winter season. The young 12-member squad, guided by first-year head coach Scott Walker, opens the season this weekend with a tournament at Sandy High School.
"I've coached most of these girls when they were freshmen, so I'm pretty familiar with all of them and I'm not really considered as a new coach," said Walker, who takes over the position from previous Eagle coach Tom Ames and has coached several years of varsity volleyball. "I'm looking forward to the season; hopefully we'll do a little better than last year."
Scheduled home games:
Dec. 13-14: Hood River Tournament; Dec. 17 vs. Gresham; Jan. 3 vs. Horizon Christian; Jan. 4 vs. South Albany; Jan. 7 vs. Sandy; Jan. 10 vs. Sprague; Jan. 17 vs. Aloha; Jan. 31 vs. Hermiston; Feb. 4 vs. The Dalles; Feb. 21 vs. Hermiston; Feb. 25 vs. The Dalles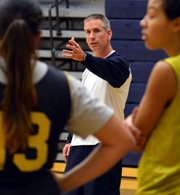 The Eagles compiled an 0-9 record in Columbia River Conference standings last year and were 8-15 overall. In addition to saying goodbye to Coach Ames, the squad is without the experience of eight seniors who graduated with the class of 2013.
Last year the team started strong, winning seven of its first 10 games, but took a dramatic downturn with a 12-game losing streak. Although this year's lineup has just two seniors — Annie Veatch and Kainalu Bailey — the girls are optimistic about how the season will progress.
"I think we can get off to a good start like we did last year and I believe we have the potential to be a pretty good team," said Veatch. "We lost a bunch of girls from last year, so there's going to be some changes as everyone adapts to their new roles. The team is starting to come together, though; I definitely feel like we'll have an improvement from a year ago."
As a precursor to this weekend's opening games, the Eagles traveled to The Dalles Wednesday evening to take part in mini-games (8-minutes each) against Barlow, The Dalles and Putnam.
"This event lets the girls know where we are at and how much work we have to do," said Walker. "The biggest thing we need to work on is our defensive intensity level. We have to work things like blocking-out and playing together as a team. I think every game is going to be a challenge, but hopefully we'll improve our league record and maybe we'll win some games."
In terms of height, the Eagles will look to the trio of Kelsey Wells, Breanna Weekly and Lauren Winans as the tallest players on the squad.
"It's exciting to start a new season, but it's going to take a lot of work to push ourselves so that we can compete well against other teams," said Wells. "We just need to maintain a positive outlook and not have any negative attitudes and make sure we keep our confidence level up. We definitely have a new and different team with younger players. We've all played together for quite a few years, though, so we're all familiar with each other."
The Eagles will try to gain an edge offensively by pushing fast breaks and utilizing the speed of players like Jestena Mattson, state 100-meter champion in 2012 and state 200-meter champion in 2013.
"We have some fast girls and we have girls that can shoot pretty well too, so I think we're capable of having some success this season," said Winans. "We had a rough time in league last year. If we all continue to work hard in practice, I think we'll have a much improved team from a year ago."
Wells, Winans and junior Monique Lara has success with their outside jumpers during Wednesday's jamboree, showing promise with their offensive potential.
"I'm excited about the new season and I'm just going to try and push myself to utilize the skills I have to help improve our team," said Lara. "I'm going to take more shots and drive to the basket more often and try to avoid playing so timid."