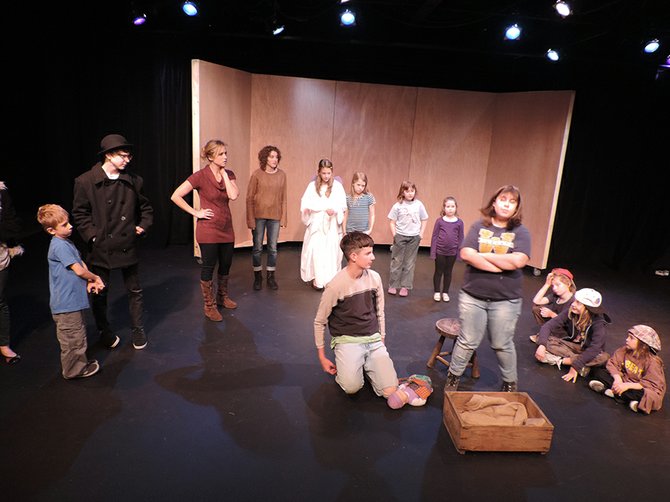 Chaos within mayhem: sounds like any Christmas experience, right?
In the "The Best Christmas Pageant Ever," a holiday comedy opening Dec. 12, the "staged" chaos is part of the actual craziness that goes into staging any theatrical production. Its director, Kathleen Morrow, has a sort of déjà vu familiarity with layers of mayhem, and the job of turning it into something cohesive. As we shall see, she has plenty of help — starting with the kids and adults in the cast. Morrow is directing a play she acted in four years ago on the same stage.
Tickets and times
"Best Pageant" dates are Dec. 12-14 and Dec. 19-20 at 7:30 p.m., and Dec. 15 and 21 at 2 p.m.
Tickets are available at the Columbia Center for the Arts or online at columbiaarts.org — $18 for adults, $15 for students and seniors, and $10 for children 11 and under; a family four-pack is $45.
This show is for all ages.
Including intermission, the show runs about two hours.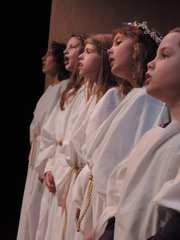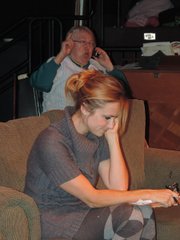 "It feels real similar because I'm actually experiencing some of the things I was acting out four years ago," said Morrow, a CAST performance veteran who in 2009 played the central role of Grace Bradley — a devoted mom who, against her first wishes, is thrust into the task of directing the church Christmas pageant, with the sudden addition of a sextet of incorrigible Herdman kids led by the menacing Imogene Herdman (Alison Dye) who bullies her way into the role of Mary, Jesus' mother.
"The challenge is trying to corral all the kids and get them to do what it is I want them to do," Morrow said. "I have an easier job than Grace Bradley because all of those kids are excited to be there and want so much to do a good job."
CAST veteran Blaire Carr (most recently seen in "Of Mice and Men") plays Grace this year. Her son, Corwin, 9, makes his debut as her son, Charlie, and David Dye is her husband, Bob. Also in the cast are David's daughters Alison and Emily. Brothers Gabriel, Nate and Joe Roth round out the Herdman clan.
The Roths' mother, Michaelena Roth, plays Mrs. McCarthy, and the Hannigan siblings, Maggie and Sam, make "Best Pageant" a family affair in more ways than one. Also in the cast are Mary Ann Pauline, Kristen Fox, Raven LeVine, Hannah Roser and Parker Arneson.
In key roles are Jane Filiault as Alice, a snooty pageant veteran and erstwhile Mary who is ousted by Imogene, and Giulia Terrera as Beth, her friend and foil, who serves as narrator. Their chemistry gives the production a healthy sardonic edge.
Music fills out the production, thanks to Bill Weiler's piano accompaniment and a five-girl choir that includes at least one Herdman, in the second act.
Morrow has an insight beyond having played the part of Grace Bradley before; she is in her 17th year as a science teacher at Wind River Middle School in Stevenson. She points to a recent rehearsal when she needed to talk with two young cast members who were being loud and she said in a loud voice, "Hey, be quiet," and everyone in the room was instantly silent — kids and adults.
"Some of the adults said, 'Wow, I'm impressed,'" Morrow joked. Ritual warm-ups at the start of each rehearsal help focus the energy from the street into the production.
"It helps just in that I know kind of how their little minds think, and which strategies work in getting their attention and getting my points across: warm-ups at the beginning, and one of my strengths as a teacher is to pretty clearly articulate my expectations," said Morrow. "I've been able to do that and articulate what challenges I see coming and what to do about it; for example, to let them know up front, that they can be brats onstage but they can't be brats backstage.
"That's kind of a hard mental shift; but knowing as a teacher that it would be an issue and addressing it up front helps.
"They are such a nice group of kids," Morrow said. "They get wound up, and they wind down pretty quickly, and I really appreciate it. I've been enjoying the kids and watching them grow, and the whole cast come along. I love working with the crew I have.
"The biggest challenge is knowing what needs to be cone and keeping ahead," she said, noting that she has plenty of help from producer Kathy Williams, stage manager Adrian Chaton, prop master and costumer Debbie Olsen, and assistant stage manager Dell Charity, along with HRVHS senior Sophie Finstad, directing intern, "who is so good with the kids and has such a good eye, she has really good suggestions; she's been a life saver."
(Williams has a small role as one of the parents, and Finstad, Charity and Williams are seen on stage as firefighters.)
Together, "they keep reminding me about things that need to happen, or let me know about things I wasn't aware needed to be done." (This is Morrow's second directorial experience, but a much more involved one than last year's "Dead Man's Apartment," a one-act with four adults in the cast.)
"I have really enjoyed it," Morrow said of directing "Best Pageant."
"Knowing it so well from having done it before really helps," she said.
These are busy days for Morrow, who is juggling her directing duties with rehearsals for her next role, in the title role of "Driving Miss Daisy," directed by Lynda Dallman, the 2009 director. "Driving Miss Daisy" will be a Plays for Non-Profits production that will run in January at the Center for the Arts, and will also feature Edward McNair and William Thayer-Daugherty.