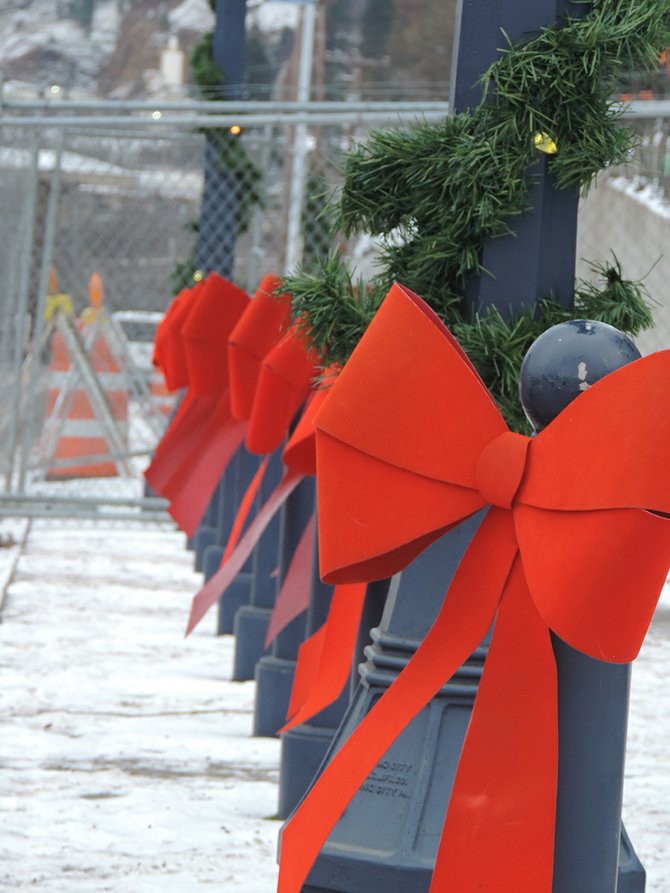 The season's first snow last week postponed the Hood River Downtown Tree Lighting Celebration and related events, but they are a go for Dec. 13, starting at 5 p.m., with the parade at 6.
The schedule of events is the same; the postponement does give the public more time to plan their parade entries, as well as to plan to bring donated items to help the needy (full schedule, A5).
City Public Works Director Mark Lago said his office, the police and the Chamber made the decision to postpone on Dec. 6. It was the first time in memory that snow fell on the same day as the tree lighting, and Lago said streets downtown were slick — particularly the hills directly surrounding the staging area, between Sixth and Ninth streets.
"We felt it was a case of 'safety first,'" Lago said.
As it happened, the snow on Dec. 6 prevented Hollywood Lights, the company in charge of turning on the tree lights, from traveling to Hood River, according to Lago.
One thing to keep in mind for Friday, parade entrants: the Chamber of Commerce asks people to avoid Santa themes, as the Big Elf in the Red Suit is already planning to make a special appearance.
n
Yachts parade Dec. 14
The Hood River Yacht Club's lighted boat parade has been rescheduled for Dec. 14. The parade will begin at 6:30 p.m., with the party and awards to follow at the HRYC clubhouse at 8 p.m. Anyone may turn out to watch the boat parade. Viewing points include the marine parking lot and marina breakwater, or Best Western Hood River Inn.
n
Here is the schedule for Friday's activities:
n 4 p.m. — Free parking downtown .
n 5-6 p.m. Window Walk, of businesses enrolled in holiday decoration contest.
n 6 p.m. — Parade begins on Oak Street and goes through downtown Hood River. Anyone may participate; gather on Oak near Sixth. The parade disbands at Hood River News parking lot, Sixth and State.
Immediately following the parade will be tree lighting on State and Second streets; Mayor Arthur Babitz will do the honors.
n 7:15 p.m. — Caroling on Oak and Second streets: professional singers will help lead everyone in caroling, and newly printed songbooks will be provided.
Free cocoa, cookies, and juice will be served, and anyone may write a holiday wish and tie it on the tree.
Bring a canned food donation for FISH food bank or a hat, gloves, coat, blanket or sleeping bag for the Hood River Warming Shelter; give it to one of the elves, and receive a candy cane.
Shops and restaurants will remain open after the parade, many of them participating in the downtown window display contest.
n Visit Santa at G. Williker's after the parade.