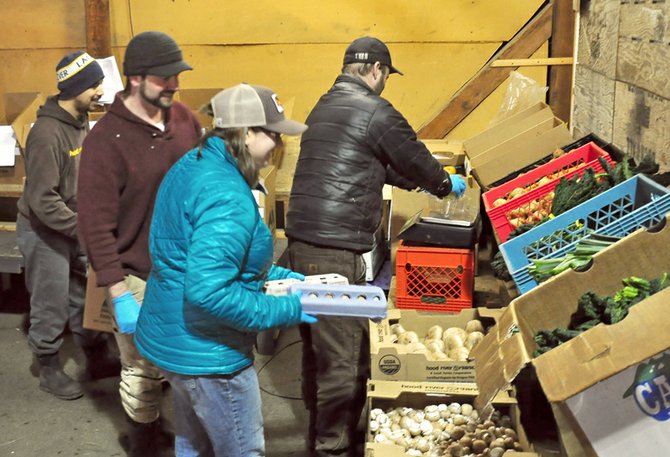 Take a quick picture of Hood River agriculture in your mind.
Got it? Good.
You probably have an image of blossoms on trees in the spring, bins full of apples or pears in the fall or maybe even plump grapes and lush vines on vineyards.
What about a box of kale? No?
Brian Shaw and Nate Thall would like you try that picture again.
After starting a mushroom farm at the old Dee Mill site a few years ago, the owners of Hood River Organic branched out with a Community Supported Agriculture.
Photo Gallery
Slice of life: Hood River Organic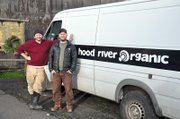 The team at Hood River Organic delivers fresh produce and other products as part of its CSA program.
"Because we do our own distribution there are a lot of farmers that don't do their own distribution and started to outsource to it," Shaw said. "Inevitably what would end up happening was that we had a walk-in full of mushrooms and Mt. Hood Organic pears, Columbia Gorge Organics Apples and EverSummer Farms basil and a lot of other local farmers' products and eventually the light went on that we could be building boxes of food for people."
In community supported agriculture (CSA) a customer invests in a farm or farms and in turn receives part of the harvest.
In their first year in 2007 they had seven members. That number now swells to over 300 during the summer and is currently at over 200.
In the winter.
In a growing season for which Hood River is not exactly renowned.
More on Hood River Organic
For more on Hood River Organic, why they do what they do, and more about CSA programs, visit www.hoodriverorga...>
Yet here they are day after day, filling boxes with seasonal fruits and vegetables and other goodies from local farmers.
The backbone of their boxes and their operation continues to be the mushrooms, but they have seen such tremendous growth in their CSA program that Shaw and Thall hired on two full-time delivery drivers (replacing themselves) a half-time driver, several employees to help get the produce into boxes and Manager Maria Eby, a Hood River Organic CSA member who came on board to manage the back end of the operations.
The summer months tend to be craziest, but even now, in the middle of winter, they are busy pulling Kale, checking on mushrooms and plucking carrots from their garden behind the building.
Things are made a little crazier due to one of their unique features: CSA members have the opportunity to customize the orders they receive every week.
Some people like the variety, others request entire boxes of Kale ("It's the new super food," Thall says); others entire boxes of portobello mushrooms.
After the customization cutoff period, Eby gets busy on the phones, calling up their co-op farms to get the items the CSA will need for the week. They don't just limit themselves to vegetables, either; also available in boxes are local cheeses, breads, eggs and even coffee.
Some of the co-op members see an opportunity to increase their distribution through piggy backing on the CSA. The CSA in turn gets the opportunity to diversify its product offerings, and the customers get increased convenience.
It also gives CSA members some security. With a wide range of produce and products coming from numerous farms, there is less risk of a bad frost or a bad crop wiping out interest in the CSA.
In return for many of the fruits and vegetables they don't grow themselves, Hood River Organic offers a valuable trade: fertilizer compost which was used to grow their mushrooms.
"The stuff is black gold," Thall said.
Those trades help to "close the loop" for local agriculture. Manure is used as fertilizer to grow the mushrooms; the leftover compost is used on the farms to grow the fruits and vegetables, with the leftovers, such as kale leaves, then also being used as a form of compost.
It may make for a smelly existence on some days, but Thall and Shaw wouldn't have it any other way.
"The CSA is really were we connect with the community," Shaw said. "The CSA is a great way for people to instantly be supporting a network of a dozen local farms."
The produce from those farms winds up at the Dee Mill, where Felix Trejo looks through the lists of items Eby has printed off of their online database. He slaps the sheets onto different boxes and then goes to work, pulling bunches of kale, Asian pears, potatoes, herbs, eggs, jars of Thall's pear butter from Thall's small orchard, and mushrooms, and loading them in.
Those boxes will be put in the farm's two Sprinter vans in the morning, where they will be delivered to homes and pick-up points in the greater Portland area or within the Gorge.
All of the customization can make the day after the deadline for orders a little crazy, with Eby having to make sure they can get everything and pull it together.
Still, sometimes things wind up being simple.
This week one customer ordered nothing but potatoes in their box, leading to Shaw checking the order with Eby twice just to make sure it was correct.
"It's Super Bowl weekend," Thall says, snapping his fingers. "He must be making a lot of fries."