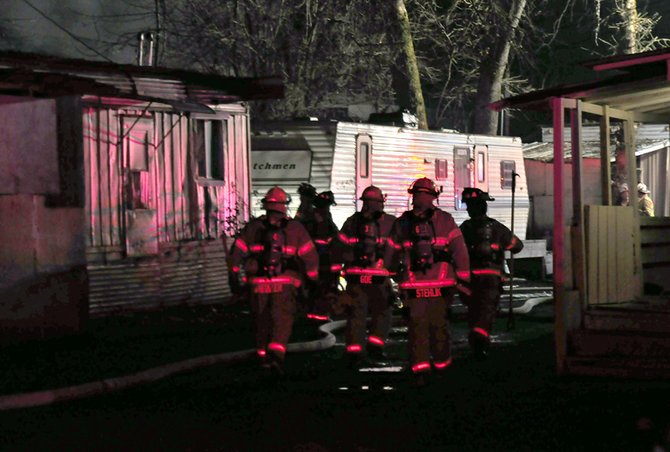 The Hood River Fire Department has concluded its investigation into a mobile home fire on Cascade St last Thursday.
Hood River Fire Marshall Peter Mackwell said that investigators were unable to determine a certain cause "but that is was probably electrical in origin."
Mackwell said there was no evidence of suspicious activity and the investigation had concluded.
The mobile home was unoccupied at the time of the fire, with the occupants out of town in Mexico.
Mackwell said mobile home fires present unique risks for firefighters due to their lightweight construction.
"If we should decide to get up on the roof, the roof is soft and spongy," Mackwell said. "We think twice before going in through the roof."
Firefighters have other tools to attack fires inside mobile homes, including piercing nozzles which can go through the side of the home.
In this instance the home was fully involved by the time firefighters arrived, with flames and smoke pouring out of the windows.
Firefighters from numerous local agencies set up a defensive attack to extinguish the blaze and were able to leave the scene after three hours.
In addition to Hood River Fire, Wy'east Fire, Cascade Locks and Westside Fire, Hood River Police, Hood River Public Works and Pacific Power also responded to the scene.
Pacific Power responded in order to switch off the power to several lines in the mobile home park after the heat of the fire caused the power lines to come down.