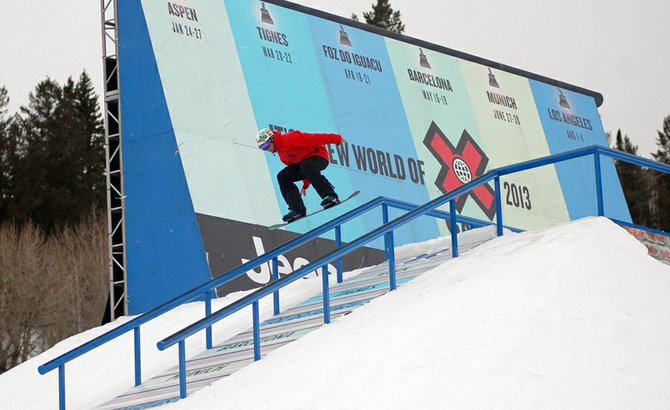 Winter X Games draws tens of thousands of fans to Aspen each January for what is arguably the biggest stage in the world for extreme skiers, snowboarders and snowmobilers.
Along with Dylan Thompson, who picked up a bronze medal in the snowboard street contest, this year Hood River was represented by high school snowboarder Connor Goodwillie and skier Tucker Fitzsimons. The two participated in an invite-only rail jam competition on the same course of jumps and rails as the main X Games street event was held. They earned invites after catching the attention of the USA Snowboarding Association during the USASA organized Mt. Hood Rail Jam series held earlier this winter at Mt. Hood Meadows.
"It was an awesome experience to be there," Goodwillie said of the event. "There were so many people watching; it was definitely the biggest crowd I've competed in front of. I also got to watch some of my favorite snowboarders compete, which was super exciting and motivating."
Goodwillie, a senior, recently moved to Hood River from White Salmon and is expected to be one of the top snowboarders on the Hood River Valley High School team this season.
For Fitzsimons, the sentiment was much the same, and although neither of the two made it into the final round of the contest, both said the trip was more about the experience than the result.
"The course was fun but pretty sketchy," he said. "On one of the rails, if you fell off it was like a 20-foot drop. The course was right next to the snowmobile events so there were definitely a lot of people watching us. It made me a little nervous, but also got me pumped up. Even though I didn't place I feel like I did pretty well for myself."
As a freshman, Fitzsimons is already making a statement on the HRVHS freestyle ski team, where he is giving older teammates a real run for their money.
Both boys say their focus for the rest of the season will be to continue to improve, land some "sick" new tricks, qualify for state and hopefully finish on the podium at their strongest events.