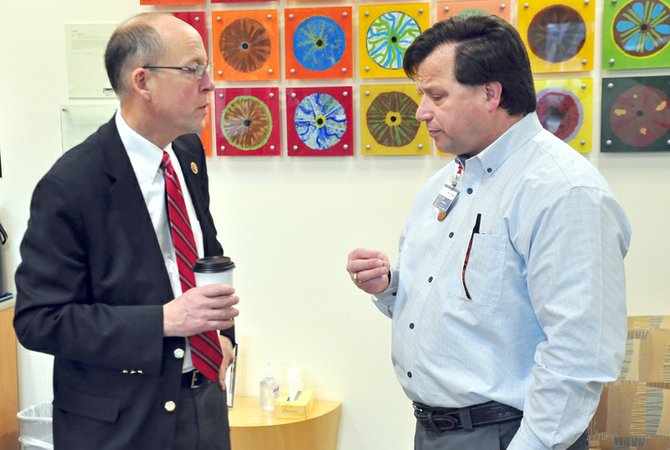 Providence Hood River Memorial Hospital and other hospitals like it across rural Oregon could soon have a little leeway in how they manage their patient loads.
New legislation proposed by Rep. Greg Walden would provide hospitals like Providence, which are designated as rural Critical Access Hospitals, with flexibility in how they calculate their daily number of beds used.
Currently designated Critical Access Hospitals cannot admit more than 25 patients per day.
If they go over that cap, patients are often sent to another hospital, or patients in the hospital are discharged, or the hospital may be reimbursed by the government for the care of the patient below actual cost level.
Walden visited Hood River Friday to talk with Providence Hood River CEO Ed Freysinger about the proposed legislation, which would allow hospitals to either use the current 25 beds used per day model or transition to a yearly average of 20 beds used per day.
Walden hopes that the legislation would allow hospitals flexibility in dealing with everything from large accidents, a bad flu season, or an increase in tourists.
The Republican's wide-ranging district includes a dozen Critical Access Hospitals, and in a statement announcing the legislation effort Walden said that he hoped the legislation would "provide flexibility for small, rural health care so patients can get the care they need in the community where they live."
He is working with Democratic Senator Ron Wyden to help move the legislation forward in the senate and said the legislation would be formally announced soon once its budget impact was scored.
"We don't want to have a budget issue here; that's not what we're after. What we want is the flexibility," Walden said.
Fresyinger sent a letter of support to Walden regarding the legislation and offered the health care provider's endorsement.
"This proposed legislation would allow small, remote hospitals to provide important acute care services to rural communities across the country," he wrote.
While Walden was at the hospital he received a tour of the building to see the upgrades to the facility since the time he served on the hospital board.
He also learned about the Hood River County GAP program which provides coverage for the uninsured, which Freysinger hopes the program will help cut down on unnecessary and expensive emergency room visits.
He hopes that legislation proposed by Walden will allow the hospital greater flexibility in how it serves the needs of the community.
"As we see the changes coming in health care, the greater flexibility we have in how we use the facility is going to allow us to respond to the transformation that is being designed," Freysinger said. "This is where creativity comes in." "And common sense," added Walden.