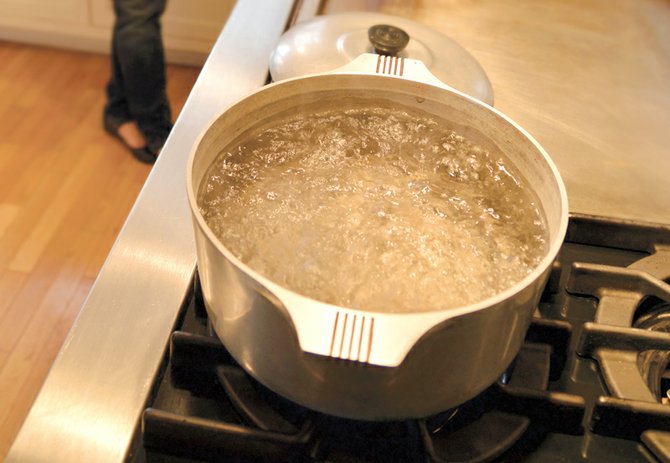 Chris Reitz would just like to be able to drink from her tap again without first having to put the water on the stove and boil it.
In late November a boil-water notice was issued for approximately 300 residents within the Oak Grove Water District west of Hood River due to presence of E. coli bacteria in the groundwater.
At the time, the county environmental health department estimated the problem could last for "weeks," and Reitz said she was told by the water company that a fix could be possible within two weeks.
Nearly three months later, residents are still boiling water for everything from brushing teeth to washing dishes.
If they don't want to use boiled water for everything, residents of the area can either used bottled, or drive to the West Side Fire Station on Barrett Drive and fill up jugs. (Update: Oak Grove water users can fill up jugs at the station during the following times: Monday: 4-6 p.m, Wednesday: 4-6 p.m, Friday: 4-6 p.m, Saturday: 8-11 a.m)
Reitz says that the issue is not only a major inconvenience, it is a continuing health hazard, especially with young children around the house who can easily fall back into the routine of drinking tap water if she doesn't notice it.
"Even though my kids are three months into it sometimes I'll see my kids go down to brush their teeth and scoop water from the tap," Reitz said.
Each time she quickly has to remind them not to drink the water.
E. coli can cause diarrhea, nausea, fatigue, cramps and even death in those with weakened immune systems, such as the young or elderly.
Oak Grove Water Company and the Hood River County Department of Environmental Health first became aware of the positive test for E. coli on Nov. 28. A boil-water notice went out shortly thereafter.
The culprit is the leakage of contaminated groundwater through the company's spring box, an eight-foot rectangular concrete block which is supposed to collect water and protect it from contamination.
The spring box had been on the county's radar for some time as a developing issue.
According to documents posted on the Oregon Health Authority's website, the spring box has been a concern for the county since at least 2009, when it became clear the box was allowing contaminates inside.
"He (Oak Grove Water Company operator Dave Stolhand) also said he has observed plant growth inside the spring collection box," wrote County Environmental Health Response Coordinator Ian Stromquist in a Water Quality Investigation report. "This is likely an indicator that the spring box is vulnerable to environmental contamination and the access hatch does not have an overlapping lid."
Cracks were identified in the spring box in a 2010 survey, and the county had been pressuring the company to have the box replaced, through during the summer of 2012, and then into the fall.
In a report dated Aug. 13, Stromquist wrote that he had sent a letter to Stolhand stating that "we already passed the first deadline for submitting plans to the state by July 31, 2012. I have been informed by the state that no plans have been received on 8/10/12. The next deadline for the actual repair of the system is 9/30/12. This email has been sent to you as a reminder that corrective actions need to be completed before the fall rainy season to avoid another round of coliform bacterial contamination."
On Sept 26, 2012, Stromquist followed up with another report: "We contacted David following a 'positive' test result for total coli form (absent of E. coli). We left a voice message. We expressed concern that the positive sample has occurred immediately following the excavation of the spring block.
"We are also concerned that no actions have been take to correct the construction deficiencies detailed on the approved 'corrective action plan'; from 6/14/12. All corrections were to be completed by 9/30/12 — no plans have been submitted today — work does not seem to be progressing as of this date."
By the end of November it was too late; E. coli had been found in the water, and a boil water notice was issued.
In December, Oak Grove Water Company set up a website — it did not have one prior to the incident — and then a Facebook page to update its users on the progress toward a fix.
That progress has been slow.
On Feb. 14 the company posted an update stating that sealant had been applied to the old section of the spring box on Feb. 2. However, due to a "miscommunication," sealant of new concrete on the box was not included in the original contracting bid.
After getting a bid approved, sealant on the new section of concrete was applied Feb. 8. However, when Stolhand opened the box to begin the chlorination process to clear out any remaining contaminates, he found that water was flowing into the spring box under the new concrete wall which had recently been poured.
"The chlorination process is on hold until the problem can be resolved," the company posted on its website.
No timeline has been given for when the issue may be resolved, and Stolhand did not return phone message requesting comment.
"It's a huge problem and it's gone on for too long," Reitz said. "From the last information they gave us it will probably be at least a month more."
Water user Tim Annala said he understands that the company is small and has limited resources.
"We're small compared to Ice Fountain," said Annala, a former board member with the water district for 30 years who also has been boiling water for the last three months.
He was glad to see the company start the website in an attempt to get information to customers in a more expedient fashion.
"That has helped," he said. "This whole deal has been frustrating but I believe they are doing the best they can."
Mike Matthews, the county's environmental health director, said that the county currently has "very little teeth" in order to enforce on water quality violation beyond making providers and consumers aware of problems.
"We don't have a big hammer," Matthews said.
He added that the county is working on an improved enforcement ordinance, but that it is not yet ready to go.
Annala and Matthews did have advice for Oak Grove water users who are becoming increasingly frustrated: Get involved.
"You have a board that runs this water district and you need to be involved in that board and let them know you are frustrated and want this fixed," Matthews said.
Since the discovery of E. coli in water samples, Oak Grove has been scored as a "priority non-complier" by the Oregon Heath Authority, a designation water systems receive when they score over 11 points due to water quality violations. The presence of E. coli is 10 points in and of itself.
Without a website or even a central office, the water company relied largely on the county and media to get the information out quickly.
Reitz said she only learned of the test because she had been listening to OPB on the radio and when she called the water company she was told they intended to send out a letter.
She said her family received the letter notifying them of the boil-water order four days later.
Making the situation all the more aggravating for Reitz is the fact that the side of Sunset Drive that her family lives on is serviced by Oak Grove and the other side of the road receives its water through Ice Fountain Water District, which is unaffected by the water boil notice.
"The engineer has been notified of these problems with the new concrete and is currently working on a solution," the latest update on the Oak Grove Water Company Website stated on Feb. 14. "We will know more in a few days. As soon as we have answers, you will know."
After nearly three months of boiling water, driving to the fire station to fill up jugs or going to the store to stock up on bottled water, Reitz said she has come to appreciate life's most basic — and in the case of Oak Grove, unusable — resource.
"We go to a restaurant and they ask if I want a beer or a wine," she said. "I just say, 'I'd just like a large glass of water with ice.'"