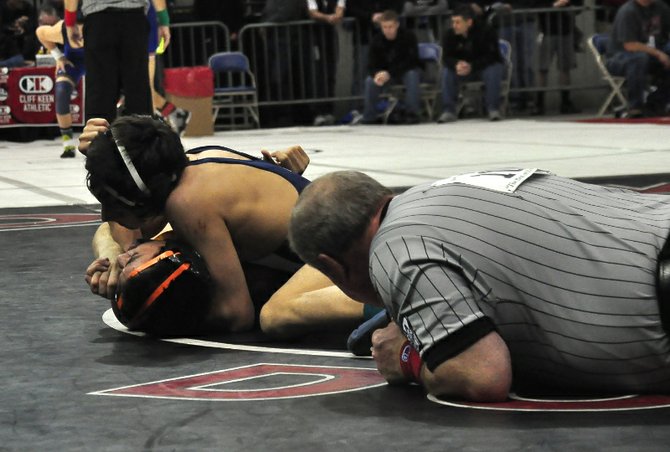 Updates from Day 2 of the 2013 state wrestling championships.
3:35: And that will do it for us from the Coliseum. Thanks for following along everybody! It's been a fun few days and we'll see about doing this again next year when the Eagles will try to be back in the finals. Have a good afternoon everybody! Look for more coverage online Monday and then a full write up in Wednesday' Hood River News.
3:30: Video of Nick Morgan fifth place match:
3:23: Video of Marquez's third place victory:
3:15: Christian Marquez will be the highest placing finisher for the HRV boys as he takes third at 120 pounds with a 55 second pin of Colton Skeen of Pendleton. Skeen got two quick takedown points, but Marquez quickly countered and bulldozed Skeen onto his back. Andrew DeHart takes fourth at 138 after losing to Austin Kleint of Lebonon 8-2. DeHart was trailing 3-2 heading into final seconds and tried a desperation throw. However Kleint rolled him over for two takedown and three near fall at the buzzer.
Nick Morgan wraps up his folkstyle career with a 1:15 pin of Emile Wolpert at 182 pounds.
1:45: Nick Morgan will wrestle for 5th-6th at 182 pounds after seeing a 3 point lead vanish late in third round against Keegan Hammond of Cleveland. Hammond, who also beat Morgan in the district finals, went on to win 6-3 in 3 overtimes. Consolation finals are coming up here in just a few minutes.
1:00: Christian Marquez and and Andrew DeHart are both on to the consolation finals. Marquez beat Orlando De La Cruz of Eagle point in a bizarre 6-5 decision. Marquez gave up two takedown points just before the buzzer, but said buzzer kept him from surrendering near fall and losing the match. HRV coach Trent Kroll received an unsportsmanlike conduct call during the match protesting a "potentially dangerous" hold call, and the Eagle Point coach was also livid at the referee for what he claimed was a missed take down and near fall earlier in the round. Both coaches sought a more senior official after the match to state their case.
De Hart handled Adrian Lyons-Lopez of South Albany fairly easily exploding for seven points in third round to win 8-2.
Marquez faces league rival Colton Skeen in the consolation finals
11:55: Video of Jessica DeHart's championship win:
10:40: Payton Rigert fights hard vs. Heather Atterberry, of Central Linn but goes down by a fall with 5 seconds left in the match.
10:30: HRV's hopes of a championship just ended. Christian MArquez gave it his all but couldn't come up with a last minute reversal to get past Thaddeus Nelson of Marshfield and loses 4-2.
10:00: Things are flying along. Ramon Ramirez and Juan Karlos Hernandez were both eliminated in the 195 and 220 consolation quarterfinals. Nick Morgan advances to the consolation semi finals with a third round pin. Meanwhile, Jessica DeHart, whose girls championship match started 20 minutes early, claims her second straight title with a second round pin.
Christian Marquez up shortly in 120 pound championship semis and Payton Rigard coming up in girls championships.
9:10: Welcome to day 2 of the state wrestling championship! I'll bring you up to date on the late consolation results from last night here in a few moments. But what you need to know for now is that Andrew DeHart has just advanced to the consolation semi-finals with a 5-2 win. Nick Morgan, Ramon Ramirez and Juan Karlos Hernandez all have their consolation quarterfinals matches in a few moments.