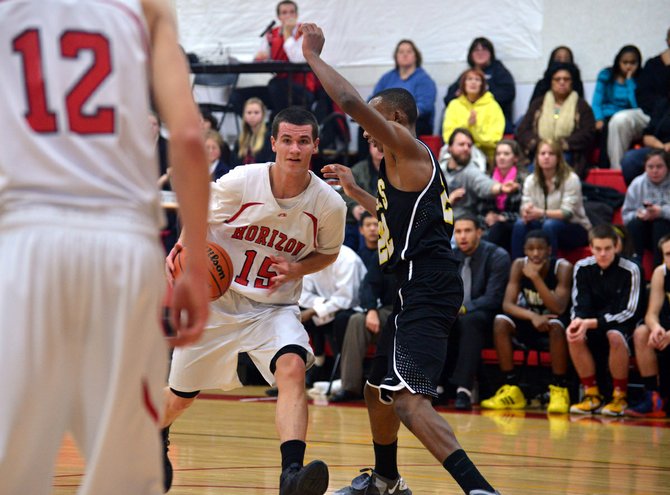 Horizon Christian's boys basketball team met its biggest challenge to date Wednesday, much the same way it has met all its other challenges this season. The Hawks relied on their defense to turn a close game against Portland's Columbia Christian into a comfortable 61-45 victory.
Playing at home for the first time since Dec. 1, and playing without starting post Jake Wells — the team's lone senior — Horizon forced 24 turnovers in running its record to 11-0. Wells was away on a family vacation, but his teammates didn't skip a beat in his absence.
"I'm proud of how you played today; you played hard from start to finish," Horizon coach Darrin Lingel said in the team room after the game. "We talked about them making a run at you, and they did, and you responded."
Lingel gave his players the day off from practice Thursday, heading into the start of Big Sky Conference play. Horizon was scheduled to play at Central Christian on Friday (results were unavailable at press time) and host Echo in a 4:30 p.m. contest Saturday.
The fact that the Hawks begin league play this week was not lost on their coach or players.
"We wanted to send a message to the rest of the league," Lingel said. "This was a statement game."
If Horizon plays like it did against Columbia, and in the 10 games prior to Wednesday when it outscored opponents by an average of 26 points, that message is pretty clear: The opposition had better bring its best game in order to hang with the Hawks.
Columbia, in second place in the Valley 10 League with a 5-1 record and 7-5 overall, hung for three quarters. The Knights feature a nice mix of an inside-outside game, led by 6-foot-9 post Connor Getting, and sharp-shooting guard Luke Moody. Getting showed a variety of offensive moves inside, as well as decent range from the outside en route to 22 points. Moody added nine points, hitting two three-pointers.
Columbia led early and was within striking distance most of the first half despite 14 turnovers. The Knights used a third-quarter scoring run and some poor shot selection by the Hawks (2 for 12 beyond the 3-point arc for the game) to pull within 31-30 with five minutes left in the period. Horizon, led by sophomore Mason Bloomster, responded to the run. The lanky, 6-3 Bloomster scored the next seven points and Micah Engel added a breakaway layup for a 40-30 Hawk lead.
A Columbia timeout helped settle the Knights, who inched back to within six points late in the quarter. But early in the final period the Horizon defensive pressure bothered Columbia once again, leading to three turnovers out of four possessions. Horizon was patient on offense and expanded its lead to 19 points in the closing minutes.
"We executed in the fourth quarter really well and had our spacing down," sophomore Ryan Aldrich said. "We came together in this game; without our big man, it definitely proved a point of how well we're coming together and just how fluent we are."
Bloomster was a good example. The active wing produced game highs in points (24) and rebounds (14), despite sitting out the final few minutes of the first quarter after taking an inadvertent elbow to the face. Junior Matt Totaro fought through the usual double teams he sees nowadays to add 17 points and 12 rebounds.
"It was definitely a big difference playing that caliber of a team," Totaro said of the Knights, who shot 53 percent from the field. "We stepped up and were able to figure them out throughout the game. We just stayed patient and played our game.
"We're not a one-trick pony; everyone can play on this team," Totaro said. "We're a balanced team ... each game a different player is capable of stepping up for us."