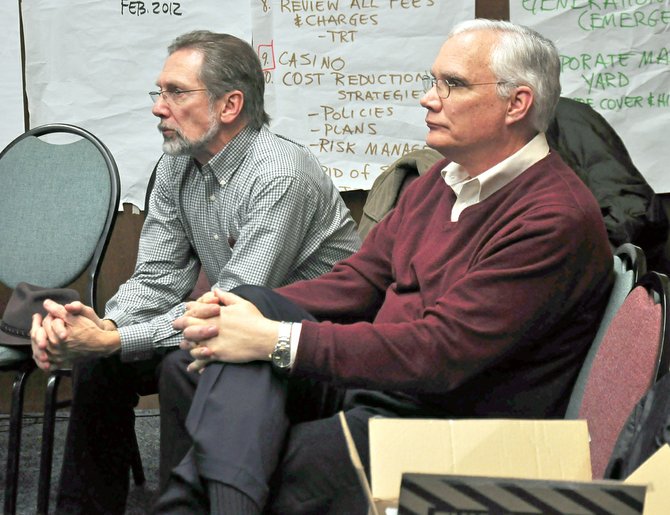 Cascade Locks — Gordon Zimmerman is ready for a fresh start.
The new Cascade Locks city administrator is currently learning the ropes of the job and getting back in the saddle of a city administration job after a year off.
Zimmerman, who was hired by the city in December and started this month, brings decades of experience to the job, and previously served as the city administrator in several towns across the state.
Most recently his eight-year tenure in Oakridge ended in a storm of controversy in December of 2011.
Zimmerman resigned following the city discovering in June of that year that it had a $420,000 budget shortfall and its reserves had dwindled from nearly a million dollars to under $4,000.
According to the Eugene Register-Guard, the city was forced to lay off numerous employees and borrow against future tax revenue to pay its bills.
Zimmerman resigned in Dec. 2011 — with three councilors voting to reject his resignation in favor of termination.
The controversy also led to an attempted recall of the city's mayor and three council members.
A forensic auditor's report of the city's finances said that the city had spent far beyond its means, and that numerous transfers for city business which led to the shortfall "couldn't have been a surprise" to Zimmerman, according to the Register-Guard.
Zimmerman said he spent most of the last year remodeling his kitchen, "falling in love all over again" with his wife and clearing blackberries from the property of his Oakridge home.
"Two acres of blackberries will take out a lot of frustration," he said.
He said the he has learned plenty of lessons from his tenure in Oakridge and Baker City — where he was also asked to resign after a four-and-a-half-year stint from 1998 to 2003.
"I learned lots of lessons, and I don't know how to encapsulate them in a pithy quote, but Ronald Reagan said it best: 'Trust but verify,'" Zimmerman said of making sure city employees have the proper training and equipment to effectively do their jobs.
Even with the tumultuous end to his time in Oakridge, Zimmerman said he could not stay away from the public sector for long.
"I love working with people and this is what I love doing … it's what I know and what I do," he said.
The Cascade Locks City Council voted unanimously to hire Zimmerman in November, a decision which also included the council members who will be sworn in Monday.
Zimmerman said he hopes to be into an apartment by the end of the month and is excited to sit down with the council, determine priorities and get to work.
"I am thrilled with the potential here in Cascade Locks," he said.
He had praise for his predecessor Paul Koch, who has served as the interim city administrator since 2010 and is transitioning out of the position this month.
"Paul Koch has done an outstanding job focusing and alerting the council the potential here," he said.
Zimmerman said his favorite parts of working in administration are being able to help a community develop and in helping cities develop "a sense of place."
"We have those basic things we have to do — water and sewer services — but what you remember is the places you meet people: school, church and park," he said.
He will have his first chance to sit in on a council meeting Monday and said he is looking forward to seeing what sort of goals and policies the council has for him to work on.
He spent nearly 20 years working in the private sector for ESCO in Portland before making the move to the public sector, saying he wanted to go from "working with dirt to working with people.
"Being a city manager fits the bill," he said. "When you wake up in the morning you never know what you are going to deal with that day."