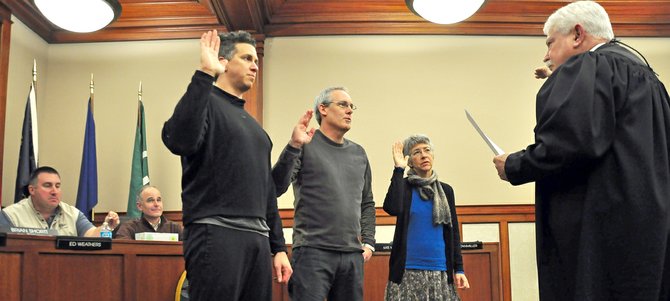 Mark Zanmiller got a doozy of a first meeting on Hood River City Council.
Moments after he took the oath of office along with Mayor Arthur Babitz and fellow council members Kate McBride and Laurent Picard the council embarked a four-hour marathon meeting to review the city's audit report, stay awake through an update of the city's transportation system ordinance to allow funds to be used for improvements to the pedestrian and bicycle system and then have a healthy two-hour debate on whether or not the city should ban residential development in the waterfront commercial zones.
Last spring the city council requested the planning commission consider banning residential development in the waterfront C-2 zones, which currently allow residential development exclusive of commercial or industrial use.
The city planning staff also sent a proposed ordinance to the planning commission banning residential development.
Ultimately the planning commission decided it did not want to see an outright ban of residential use on the waterfront. Instead, it elected to go down a path in favor of mixed use.
The proposal the commission sent to the city council would have prohibited exclusive residential use, but would have allowed it if floor area ratio requirements were met for commercial use.
Early in its own discussion Monday, it quickly became apparent that plan would not fly at the city council.
A majority of the council members said they did not see how a mixed-use plan would be able to work on the limited space available in the waterfront zones.
"We have a really limited amount of space," Ed Weathers said. "Can we really make that work as a mixed-use area? I don't think we can."
Laurent Picard agreed with Weathers.
"We are short on commercial lands and we can't afford residential down there," he said. "It's certainly not the place for million-dollar condos."
Brian McNamara, Mayor Arthur Babitz and Carrie Nelson all echoed their agreement.
Zanmiller and McBride took the opposite side, with Zanmiller saying that mixed use on the waterfront would actually help business.
"Having a vibrant mix … is really important," he said. "It gets toward a 24/7 environment down there and not just a 9-5 environment."
McBride said she saw allowing some sort of residential on the waterfront as a necessity given the housing restraints Hood River faces.
"We are a small community; we are surrounded by the scenic area, the EFU land, the mountains, the river; we are constrained period by our geography. I think we are going to have densify everywhere and the only way to do that is up."
McBride also said the council should give some deference to the planning commission, which spent five work sessions hammering out mixed-use plans for the waterfront and had voted against a prohibition of residential development by a 5-1 vote.
"They vetted it and vetted it and vetted it; it was a hard decision," she said. "Staff recommended one thing, we asked them for something, they came up with something different, and they spent a lot of time doing that and I agree with it."
With a majority appearing in favor of prohibiting residential development, the city staff will draft an ordinance and present it the council at its next meeting on Jan. 28.