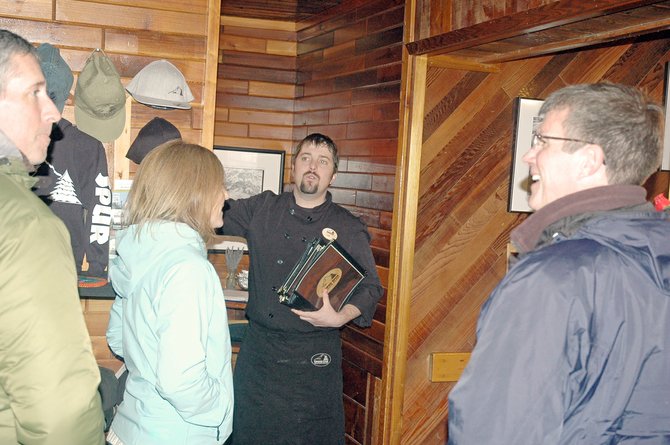 Joe Silliman wants "community" to be the common ingredient in everything served at Cooper Spur Mountain Resort restaurant.
Since taking over as chef of the Meadows-owned restaurant in December 2011, Silliman has seen business steadily increase, and he wants the upper valley community to look upon the restaurant as its local eatery.
Silliman, a veteran of various Hood River County restaurants, as well as the Meadows Ski Patrol, moved to the area seven years ago. He and his wife, Laura Spinney, live in Parkdale and have a son, Reed, 3.
Silliman, a Vermont native, loves what the area, and his restaurant, have to offer.
"In everything we do, building community is part of it," he said. "We wanted to form a partnership with our community."
On Christmas Day, the restaurant served a turkey dinner with all the trimmings, free to anyone in the community who needed a meal.
Thursday was the start of what Silliman said will be a new Parkdale tradition: a monthly dinner to help Parkdale Elementary School. The restaurant donated 20 percent of all food revenue to the school to help with the playground redesign and upgrade.
Nearly 60 diners filled the tables, which Silliman and server Rose Rhodes had placed primarily in "family style" groups. Indeed, families arrived and, mainly at the kids' urging, pushed tables together so that 8 to 15 people gathered at four different tables, along with groups of four.
The parents talked as they sipped beer and wine, and the kids drew pictures and played games with crayons and butcher paper.
Silliman said that he and Jake Bolland, executive director of finance for Meadows, "looked for ways to get back involved."
"He's been responsible for our voice back up at Meadows, what our needs are and how to best communicate those," Silliman said. "He's been a great asset for Cooper Spur.
"We needed to get back in touch with the community," Silliman said. "There's a sense I don't understand that our association with Meadows puts a distance between us and the local community, and I'm trying to break that barrier, become part of the conversation at the dinner table, so to speak."
He said that Parkdale parent Alison Betzing, who is a friend, were talking at a kids' birthday party "and we were both looking at ways to do what we were talking about," and Alison suggested the monthly dinner.
He met with Betzing and principal Kim Vogel and together they developed the idea. (It's the third Thursday of every month.)
"They needed someone to adopt the idea, and we were willing," Silliman said. "We were tickled. We live two blocks from the school, and what affects our children affects our community. As a new parent I have a new understanding and appreciation for that. It's just the right thing to do."
Betzing said, "We're a small community, and I think Joe is wonderful to step up first with the community dinner.
"We wanted to do a partnership, they're willing to do the third Thursday. It's a great thing for Parkdale Elementary. It also gets us out with good friends, so it's nice."
n
Silliman feels a sense of responsibility for the restaurant and its role in the community.
"There is history in these walls and people have very fond memories of this place, and I'm not trying to regain that, I'm, trying to write a new positive chapter.
"What's going to be exciting to me tonight is seeing people who may or maybe have never been in here together or maybe they have and they'll look around and say,' I haven't seen this many familiar faces in this place in 10 or 15 years.' That would be so cool."
While the chairs and table were arranged (and rearranged again) for communal dining, Silliman said it is important with the third-Thursday meals to accommodate all tastes.
"For me it's about everyone in here getting the experience they want. There's intrinsic value in it and there's personal value as well, and people stand to gain from it what they wish, and it's my job to see that happens."
The renewed openness is part of Meadows' larger plans for the resort.
"We have plans; things that have to fall into place, but we are hoping to rebrand our image, bring some modern touches to our operation," Silliman said.
"We could really stand to use our connection with the community of Parkdale. Even though we're donating revenue, this is revenue we wouldn't see on a Thursday night. The idea with (family style) is get this place filled twice."
Help on busy nights such as Thursday came from maintenance and management staffers Matthew Rhon and Cynthia Steele, manager.
"Everyone here has to be willing to wear different hats," Silliman said. "We've got to be willing to step up and put out a little extra effort." (Earlier, Rhodes helped Rhon clean the entry carpet.)
In addition to doing the ordering, planning, and much of the food prep, Silliman strives to make himself available to guests as much as possible when he is not cooking.
"I like to be available to answer calls and talk to guests," he said. "Cooking and staying in touch with the product is foremost, so I make sure my staff is operating with a sense of urgency, that they're very attentive. I'm very aware during lunch or dinner, even apres ski, how everyone is doing ... I'm constantly asking my staff how they're doing if I can't get out there myself. I want to know what's going on," Silliman said.
"I was a ski patroller for years, and I'm a chaotic individual. It all works; I operate best when we're going, when we're really going. I think everyone does, so it's important for me when the place is full we put our best foot forward."
n
Cooper Spur Resort is located four miles south of Parkdale on Cooper Spur Road, a mile west of Highway 35.
The restaurant serves lunch at 11 a.m. Friday through Sunday and dinner seven days a week, starting at 5 p.m.
The après-ski menu is served on selected days. It's smaller plates, but hearty fare, including burgers and fries, cracked crab, and soups, Friday (2-5 p.m.) and Saturday, Sunday and Tuesday, 4-8 p.m.
(On Tuesdays Mt. Hood Meadows slopes close at 4 p.m., bringing plenty of hungry skiers and boarders in the doors.)