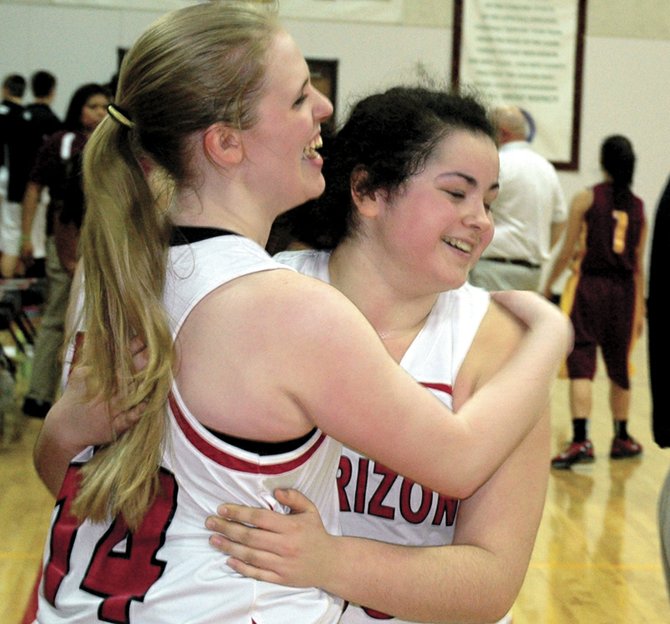 Kasia Neilsen stood strong in the post and muscled in the go-ahead basket with six seconds left Saturday and the Horizon Christian School girls basketball team defeated the visiting Nixyaawii Eagles.
Ahead 15-14 at the half, the Hawks played aggressive defense and hit the shots when they needed to pull out the 38-35 thriller.
Neilsen laid the ball up against a double team to put the Hawks ahead 36-35 in a fourth-quarter that saw five lead-changes.
Trista Hicks' two free throws with .8 seconds left sealed the victory.
"We definitely buckled down and won it," Neilsen said.
"It was definitely amazing, a great feeling to have the team get a good win after the losing streak," she said. The Hawks had lost their previous three games.
"It feels good, especially the way the girls have been working hard these past few weeks," said coach Chad Leeson. "It's just a confirmation of what they've been doing."
"It was nerve-wracking," Hicks said of her last two, sealing free throws.
"I thought, 'I should make these, because even if they make a three, it's still tied.' We've seen a really horrible three get shot to tie a game one of our games before, so it's possible."
Leeson said Saturday the team has a week to prepare for its next game, Jan. 25 at Ione. (The Hawks host Dufur on Jan. 29.)
"We need to keep building on this momentum. They've been improving every week and that's all you can ask," Leeson said.
Hicks had 13 points against Nixyaawii, followed by Neilsen's 10 and Katie Tolbert's 7. Tolbert pulled down key rebounds in the decisive final minute, and was fouled making a layup to even the score at 34-34
Along the way, Marlie Bloomster and Alyssa Bryan hit key baskets, including a three-pointer from the corner, under a perfectly timed screen by Neal, to make it 34-34.
"Leadership coming through right there," Leeson said of the teamwork.
(Another interesting statistic was the balance of playing time, with five players getting 23 to 27 minutes on court, and two others at 19 and 12.)
n
On Nov. 18, Condon/Wheeler downed Horizon, 62-48. Katie Tolbert led the Hawks with 15 points, including seven of nine free throws and 4-for-10 field goal shooting. Hicks scored 12 points on 5/18 shooting. Hannah Kempf hit two of her three baskets, including a trey, for five, and Bryan added four.