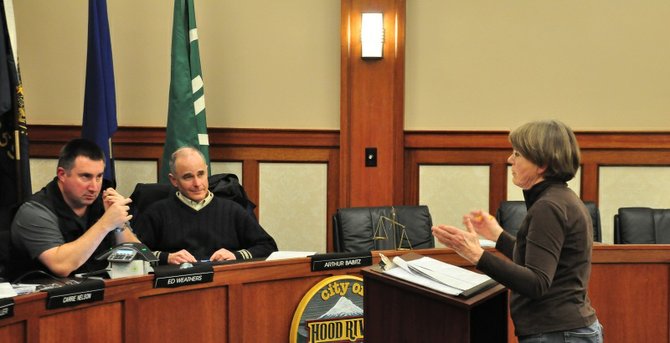 When it addressed the city fee schedule last summer, the Hood River City Council separated out planning department fees from every other department.
The council hoped to avoid a contentious battle over planning appeal fees, as the city was then right in the middle of fights over allowing Hood River's Walmart store to expand and the possibility of a hotel and commercial development on the Hood River waterfront.
However, when the planning fees resurfaced at the council's meeting on Jan. 28, emotions were still running fairly high.
City Manager Bob Francis proposed two models to city council to determine planning fees. The first option Francis proposed would use a worksheet to determine a high, mid and low range of costs and use the average; the second would be to provide a client with a worksheet for actual costs.
Francis told the council the city would provide clients with its "best guess" on how much services would cost and then would reimburse if actual costs were less or would seek reimbursement if actual costs were more.
Both Francis' options sought to have appellants responsible for most of the city's cost to process an appeal.
That idea did not please Linda Maddox, president of Friends of the Hood River Waterfront, which is currently appealing the city's decision to allow a hotel and commercial development on the waterfront. The group has also filed a lawsuit over the city planning appeal fees and has threatened lawsuits under the Endangered Species Act and Clean Water Act over the hotel project.
"I just can't believe that we would even consider an idea like this," Maddox said.
She added that estimates based on hourly costs could become prohibitively expensive, particularly if attorney fees were to become involved.
"I don't think that fees pay for our planning department; I don't think there should be no fees, but with high fees ... we're still not going to be able to reimburse costs," she said.
Maddox said she felt the proposed plan went against "the Oregon way" of planning goals and would limit citizen involvement.
According to the Oregon statewide planning goals and objectives, the first goal of Oregon planning is citizen involvement.
During her testimony, she cited as positive planning examples the Providence Hood River Memorial Hospital expansion and the Port of Hood River's Halyard building, which had invited citizen input and had passed through with relatively little controversy.
Mayor Arthur Babitz said the city would not be excluding citizens from the process, even if it did change the fees.
"We don't charge anyone to be involved in land use process; we charge for appeals," he said, after asking Maddox how much the city had charged them for their input.
Both the council and Maddox tossed barbs at each other throughout the night.
Babitz said he would like to see attorney's fees included as a reimbursable costs to prevent frivolous appeals and that "you don't have to look very far to find examples of that," referencing Friends of the Waterfront's appeal.
Laurent Picard said that he wanted to avoid a "shotgun approach" for fees, and cited the 23 assignments of error in the Naito development hotel project appeal filed by Friends of the Waterfront.
"If they'd had to pay attorney's fees, they may have whittled that down," he said.
Maddox called the estimates model proposed by city staff "crazy" and said the she hoped the idea "goes out the same way it came in — and with a lot of air behind it."
Prior to Maddox, fellow speakers Mary Ellen Barilotti and Heather Staten had suggested alternate models the city could consider, including allowing appeals of planning commission decisions straight to LUBA, or using a hearing officer.
Council members Kate McBride and Mark Zanmiller suggested the option of allowing groups seeking an appeal to either choose a base fee plus attorney's cost or to use a petition process to get a fee waiver.
In the coming weeks the council will discuss what it would like to use as a base fee model and will have city staff research some of the other options presented and deliver a report to the city council.