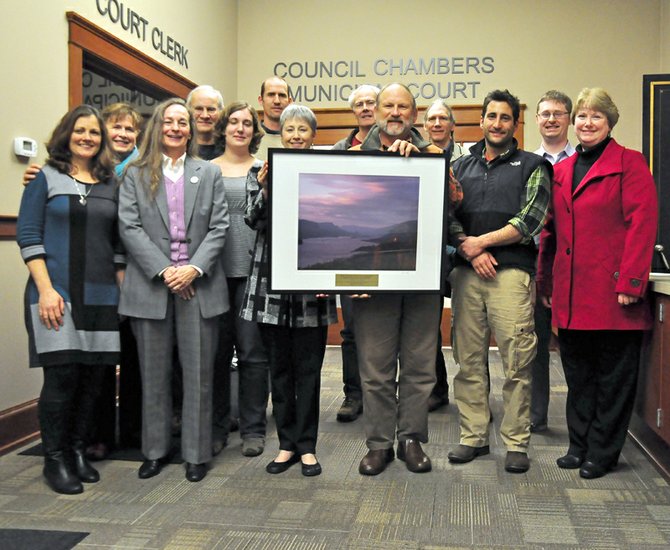 Indian Creek Stewards has been chosen to receive SOLVE's 2012 Citizenship Award. SOLVE board members were honored the award at the Hood River City Council's Jan. 28 meeting.
SOLVE, best known for its annual Oregon beach cleanups, works to improve Oregon's environment.
It chose Indian Creek Stewards for the group's work improving Indian Creek and for the public-private partnership. Over the years, the Stewards have replanted stream sides, found ways to lower water temperatures, provided wildlife habitat and improved water quality.
Hood River Watershed Group's staff coordinates the group that includes private citizens, Columbia Gorge Community College, Hood River Valley High School, Horizon Christian School, Farmers Irrigation District, Klahre House, Inter-Fluve, Hood River Parks and Recreation Columbia Riverkeeper, Pacific Power and the City of Hood River.
Anyone is welcome to attend the monthly meetings.
Indian Creek starts in the Hood River Valley's west hills. It winds some 8 miles through orchards, subdivisions and golf courses until it crosses under busy Highway 281 (Tucker Road) just north of the Rosauers grocery store shopping mall. Past the highway it tumbles 360 feet down a steep forested canyon another three quarters of a mile to join the Hood River.
According to Susan Hess of the Stewards, for decades people have pulled water from the creek for irrigation and dumped trash along and into it.
But in 2006, Columbia Gorge Community College bought several acres that Indian Creek flows through. The college contacted Hood River Watershed Group Coordinator Steve Stampfli and a partnership began.
The group's first project was to haul tons of trash from the college's creek-side acreage — a project so big a helicopter was needed to haul out automobiles, chunks of concrete, refrigerators and chest freezers.
This work helped cement a close relationship between the watershed group and the college, eventually linking others already active in resorting Indian Creek and bringing in new partners, according to Hess.