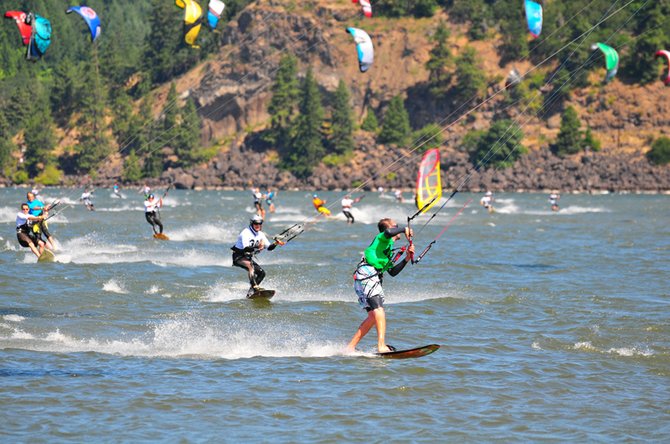 Once every summer, the disorganized jumble of kiteboarders on the Columbia River transforms into an orchestrated mob of brilliant colors, rallying around the river in support of young cancer survivors.
"It's almost as enjoyable to sit on the beach and watch the chaos, the colors, the excitement, enjoy the music, and experience the energy the event provides to the community as participating," says Steve Fisher, cancer survivor and Kiteboarding 4 Cancer participant.
The annual event returns to Hood River this weekend, July 12-14 at the Event Site, and the buzz surrounding the event is understandable, as endurance racers spend six full hours on the river, battling unpredictable weather and nearly 200 other contestants to complete as may laps as possible around a large course roughly between the Sandbar and Wells Island.
Tonia Farman, KB4C founder, says the kite derby is designed to replicate the inescapable struggle that cancer patients live with day-in and day-out of their lives.
For many, KB4C — North America's largest amateur kiteboarding event — sets itself apart from other events because of the importance of the cause it represents. Take Olivia Halfen, for example. The event volunteer coordinator is also a cancer survivor.
"Every time I go to the event I look out and see how many people are suited up and ready to spend six hours on the water and I think how everyone is doing it to support people just like me," she said.
Farman started KB4C in 2007 after her brother, Scott, passed away from leukemia. "I needed an outlet for my own healing process and thought, what better way than to go kiteboarding all day," she remembers. "Fortunately, the whole kiteboarding community was really supportive."
The event's endurance race, all day Saturday based out of the Hood river Event Site, is the focus of a weekend packed with fundraising efforts. The race starts at 10:30 a.m., weather permitting, and will run until about 4:30 p.m. For non-competitors, dry land activities include live music throughout the day, food and beverage vendors, a kids art tent and the Boards of Hope live and silent auction.
Sunday will play host to another full day of events including kite team relay races and the never-ever-windsurfed-before race, a new event that promises to be a crowd favorite. Farman explained that
"a group of local professional windsurfers are very eager and enthusiastic about introducing windsurfing to non-windsurfers."
In this competition, which is scheduled for 11:30 a.m. Sunday, competitors will be provided gear and basic instruction before being challenged to make it out and back around a buoy.
KB4C has raised roughly $525,000 over the past six years, according to Farman, and the fundraising goal for this year is $100,000. Funds are raised through athlete fundraising prior to the event, silent and live auction, beer sales, a portion of food sales, and sponsors that pledge a dollar amount per lap completed by the kiteboarders.
KB4C relies on sponsor funds to pay for the event expenses, which allows 97 to 100 percent of all funds raised to be put directly toward the Camp Koru Survivorship Program, which hosts adventure therapy camps for teens and young adults working to get their lives back after cancer.
Koru is a Maori word that refers to the origin of the spiral of a fern and can be translated to new life or new growth, explained Fisher, who was in attendance at the first Camp Koru in 2011. "Survivors often feel lost, but at Camp Koru they are able to build a new family to support each other," he said.
Farman explained that young adults who are transitioning out of treatment and back into everyday life face unique challenges. "Camp Koru is a safe and supportive setting for survivors to get together with peer support, gain new confidence, get rejuvenated and leave with a new outlook on life," she said.
Halfen described her camp experience at Camp Koru: "This camp gives people the opportunity to meet other survivors and talk about things that the doctors don't talk to you about and to build lasting connections," she says.
Camp Koru is available to cancer survivors ages 18-39, with programs that teach surfing and stand-up paddle boarding on Maui and skiing and snowboarding on Mount Hood.
In addition, an art studio at Camp Koru empowers young survivors to use art as a form of healing — a concept KB4C has woven into its fundraising efforts.
The Boards of Hope project is an opportunity for artists to create works of art out of new or used kiteboards, surfboards, skateboards, wakeboards and other boards. The boards are then sold at auction during KB4C.
This year two famous surfboard shapers, Gerry Lopez and Fletcher Chouinard, have gotten involved by shaping boards which will be sold in the live auction. The Boards of Hope boards will be on display for the silent auction all day Saturday at the Event Site and will be auctioned off at 6:30 p.m. that evening.
For more information about KB4C, visit athletes4cancer.org.