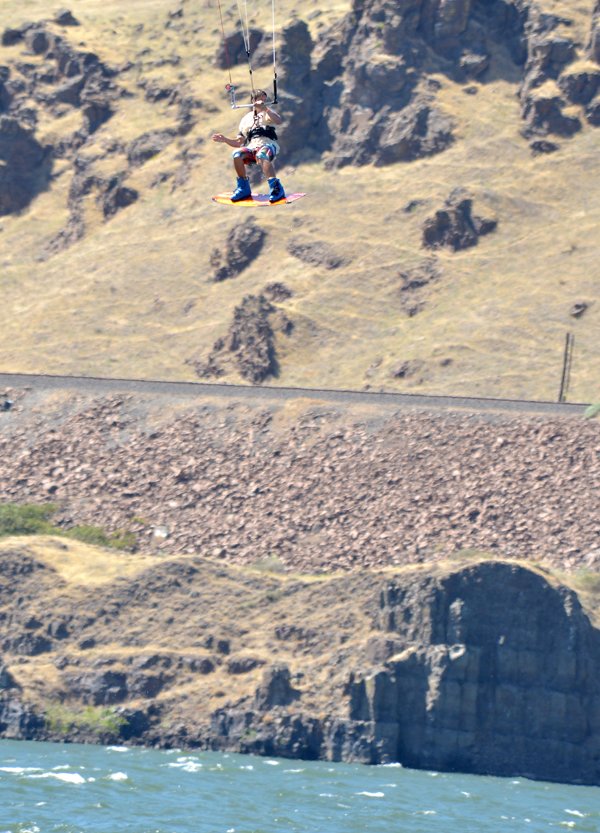 Over-calculating one's own athletic feats is a common phenomenon in extreme sports, and in the Gorge, there are few better examples of this than with the sport of kiteboarding. When flying through the air at high speeds attached to a kite by four thin lines, it's easy to look down at the water and estimate a 40-, 50-, even 60-foot jump.
Meanwhile, your friends on the beach watch the same jump and dismiss it as a mere 20-footer, averse to giving you due credit for much of anything. You argue it was way bigger, but they hear none of it; and up until recently, other than the most likely truth of precisely halfway between your guesstimate and that of your friends, there was really no practical way of determining just how high a jump was, or who, through all the ribbing fellow kiters can dish out to one another, actually goes the biggest.
Enter Xensr. It's a waterproof iPhone case with an integrated gadget that connects to the phone and utilizes its 3-axis gyroscope technology to accurately track and record motion, rotation, speed and, in the case of kiteboarding, the precise height of any jump.
Upcoming kite events
Kiteboarding 4 Cancer: This weekend at the Hood River Event Site. Endurance race is all day Saturday. www.athletes4canc... for details.
13th annual Bridge of the Gods Kite Fest: July 27-28 in Stevenson. www.botgkitefest.com for details.
Pro-Am Blow-out: Aug. 3, downwind race from Stevenson to Hood River. www.botgkitefest.com for details.
"Kiters like to talk big game about how high they jump," said Mike Duhaime, who works for Naish in Bingen. With fellow local kiteboarding enthusiast Ken Lucas and Casey Hauser of Xensr, the three organized and ran a successful first-of-its-kind event Wednesday called Hood River Huck Fest. "Now that we have a way to see who actually goes the biggest, we decided to hold a big-air event using the sensors."
Using 12 arm-mounted sensors provided by Xensr for the event, the Huck Fest drew 45 competitors to Rufus all day Wednesday to take advantage of strong west winds, rolling swell and the uncrowned stretch of river in the arid eastern Gorge.
"With a format that completely leveled the playing field, we were able to keep it as the grass-roots event that we wanted," Duhaime said. "We had full-on amateurs competing against pro riders, and with no subjective judging, only the numbers mattered."
With 10-minute heats of four riders at a time, the elimination-format whittled the field of 45 down to final rounds of men, women and junior categories based on who could jump the highest with the conditions they had to work with. Although the final numbers aren't all that exciting in terms of max height — due to variable wind — Duhaime said the event was an overwhelming success, especially as a first, that he expects will turn into a popular annual contest.
On a 12-meter kite, Liquid Force team rider Brian Smith posted the highest jump of the final heat, at 45.37 feet, to win the men's heat. In the women's division, Colleen Carol reached 39.05 feet for the win, and junior division winner Marcus Catlett just barely edged out the other two finalists with a 32.49 jump.
Final round top three (in feet):
Men: 1st: Brian Smith, 45.37
2nd: Jesse Richman, 43.70
3rd: Brandon Scheid, 43.62
Women: 1st: Colleen Carol, 39.05
2nd: Laura Maher, 37.38
3rd: Kirsten Cook, 30.76
Junior: 1st: Marcus Catlett, 32.49
2nd: Austin Keillor, 31.49
3rd: Brendan Kerr, 31.10