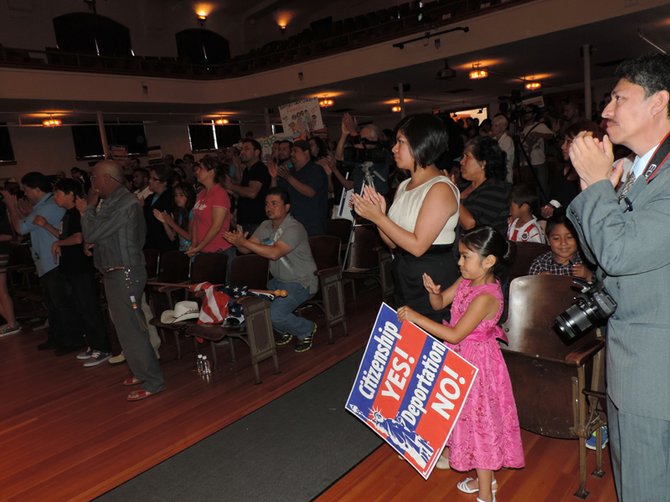 A visiting Illinois Congressman received a raucous reception Saturday in a forum on immigration reform at Hood River Middle School's auditorium.
Rep. Luis Gutierrez both praised and goaded his colleagues in Washington to act soon to pass a comprehensive federal immigration reform bill.
He called on the House leadership to relent and allow a full vote of the House on immigration reform, something he said their Senate counterparts have done.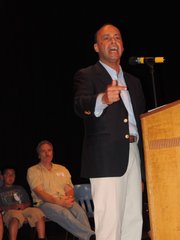 Denying a full vote on the issue is a denial of democracy, said the Democratic member of the House of Representatives in a 15-minute talk that shifted between English and Spanish. Headphones were issued for translation.
About 400 people attended, and also heard impassioned testimony in favor of giving legal rights to illegal immigrants, from Graciela Gomez of Hood River and Antonia Hidalgo of Redmond.
Mayor Arthur Babitz welcomed Gutierrez, saying "comprehensive immigration reform is an issue of basic human rights, and it is an issue of basic economics.
"Part of why we are here today is to find out what we can do to make 2013 the year of immigration reform," Babitz said.
Causa of Oregon, the largest Hispanic rights organization in Oregon, sponsored the rally, the only Oregon visit by Gutierrez.
"Nos otros una familia," Guitierrez said, emphasizing his theme of unity between Anglos and Hispanics, and those who have acquired citizenship or legal documents, and those who have not.
"We are in a really good place, in a place where those who were born here, are American citizens, and those who have their documents, we have realized we have a responsibility to help those who have not accomplished that goal," Gutierrez said.
"We do not want a permanent underclass of workers who do not receive justice and fairness," he said. "I am for an ag job bill that gives you every worker you need so that your economic strength can continue to grow every day; but if we are going to get it done we have to get it done for everybody, for those we invite coming new to this country and those who are already here."
His talk was interrupted several times by the chant, "Si su puede!" ("Yes we can!") from the three-fourths Hispanic audience.
Gutierrez said the people of the U.S. deserve a full vote on immigration reform and that labor, farm owners and other key players are all in agreement that comprehensive reform is needed.
"Think about it a moment: The New York Times and the Wall Street Journal's editorial commentaries are identical. Who would have thought?
"The AFLCIO and United States Chamber of Commerce have never agreed before, but they have agreed on this, and there is agreement between farm workers and their unions and the growers across this country," Gutierrez said.
"We see compromises and bipartisanship to solve the problems of America. The only place it is not happening is in the House of Representatives," he said. "There, they need a majority of Republicans first to agree before we allow a vote. Do you want a minority of members of Congress to dictate the future of our nation? That isn't democracy, that isn't right!"
Over loud applause, Gutierrez called out, "Allow a vote of all 435 members of the House of Representatives!"
"We know a majority of members of House are for comprehensive immigration reform," Gutierrez said. He noted that he has had direct conversations with U.S. Rep. Greg Walden, the Second District Republican whose home is in Hood River.
"We have heard the very enlightened comments of Congressman Walden, who has talked about citizenship for the undocumented, but what we want to make absolutely clear is: Stop picking winners and losers in the immigration debate, my Republican brethren.
"Congressman Walden is a good man. He and I have a wonderful dialog, and I want that dialog to one day culminate in a vote, in a vote that Congressman Walden and others will give for comprehensive immigration reform," Gutierrez said.
He termed immigration reform a national security issue.
"We understand that fundamentally it is the security of our nation that is at stake, and the vitality of one of the largest economic regions of our economy, agriculture," he said. "Either we are going to have your food harvested in foreign lands by foreign hands or have those foreign hands come here to America to harvest it.
"To the growers, I say, 'We need you. We need you more than ever.' We can march by the millions but what we need is those who are the owners of the economic engines, those who have done the investing, the growers, to sit down with your friends, your friends in the Republican party who share your values and goals of prosperity, sit down with them and say, 'so that all my pears can be picked, and all my cherries can be picked, Luis said he will provide you with all the workers you need. If there aren't enough workers in this country already, but first you have got to treat those who are here readily well, and then we can bring in new.'
"We have a high-tech industry that needs new scientists and mathematicians," the Congressman said. "We should invite new immigrants to build the economic vacuum that exists in the high-tech industry; but let me be absolutely clear, that those who do some of the dirtiest, backbreaking work in America, that work in the fields every day that make sure our shelves are full with food, the farm workers of America, who work in the fields, should be treated equally to those who are already here."
Gutierrez's talk sent a clear message, said Alberto Moreno, executive director of the Oregon Latino Health Coalition.
"All immigrants deserve the same opportunities, and access to health care, and the same opportunity to participate civically in the state of Oregon, and make sure they have the same rights and protections," said Moreno, who also serves on the Governor's Commission on Hispanic Affairs..
"I think we're optimistic about immigration reform and I heard a clear message for Rep. Walden to be supportive of this legislation."