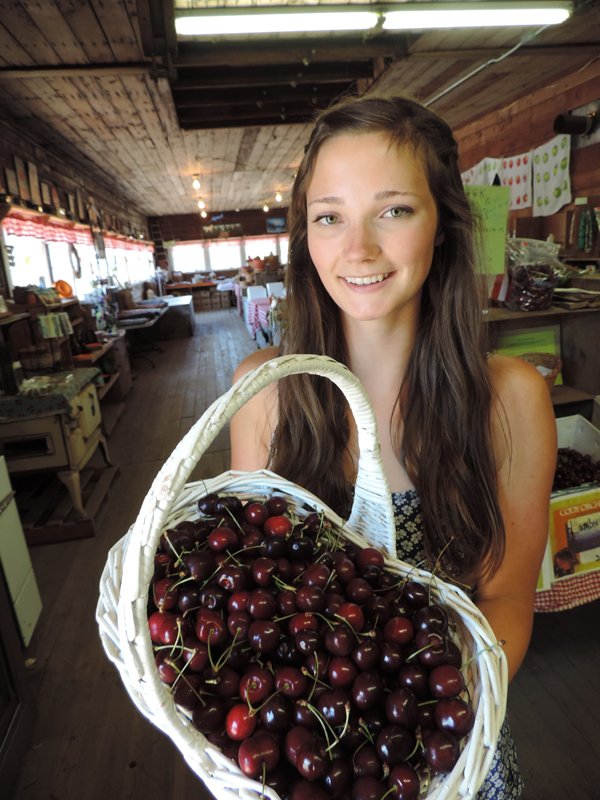 Hood River valley, Fruit Loop holds its annual Cherry Celebration July 20-21.
Admission to Fruit Loop farms and attractions is free, and most are open from at least 10 a.m. to 5 p.m., wineries open at 11 a.m. There is free parking, too.
Events include the ninth-annual Lavender Daze festival at Hood River Lavender Farms, with live music, 30 vendors (including food and wine), craft classes, varieties of organic lavender for you-pick, and activities for kids. Admission is free (no pets, please).
For details about the Cherry Celebration, a listing of Fruit Loop farms and attractions and a map, visit hoodriverfruitloop.com.
Draper Girls Country Farm will offer "Crazy for U-Pick Cherry Days." Picking cherries is great family fun, and there will be plenty of ready-picked cherries, too.
Cherry Karma's Purple Pit Stop on Eastside Road, north of Pine Grove, will offer "The Cherry Jubilee." Sample freshly picked Rainiers, Bings, Vans, Stellas, Lapins and Lamberts, and choose your favorites.
At Rasmussen Farms in Pine Grove find cherry recipes and cherry products, cherry dessert, and fresh summer vegetables.
At Apple Valley Country Store's Cherry Festival and Country BBQ find barbecue meals as well as cherry pies, cherry cobblers, crisps, ice cream and milkshakes.
Pearl's Place, the first stand you come to on Highway 35 south of Hood River, will offer orchard-fresh cherries with old-fashioned flavor.
Visit Hood River Vineyards and Winery to taste Rainier cherry, black cherry and peach ports. There are many other fine wines to choose from, as well.
Phelps Creek Vineyards will offer pairings of savory cherry dishes with its estate-grown pinot noirs and dessert wines.
Stop by The Gorge White House, in Pine Grove, and sample fresh-picked cherries. Learn the many ways to enjoy them, like the tasty cherry, bacon, and gorgonzola pizza available at its food cart.
Want tasty blueberries to go with all those cherries? Visit "Grandma's Blueberry and Barbecue Bash" at Grandma Mary's Fruit and Produce in Pine Grove. Buddha Belly's Teriyaki Barbecue will also be on hand.
At the Plymouth Yarns Trunk Show at Foothills Yarn and Fiber, see the alpaca babies and hand-knitted garments made of alpaca and other yarns.