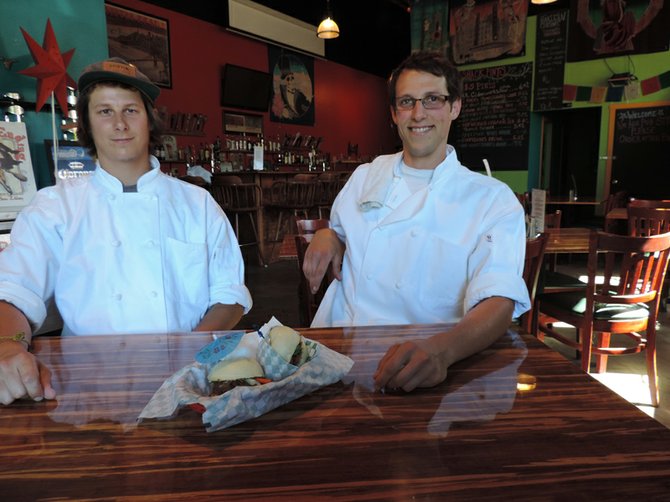 One morning, Colby Richards woke up and panicked because he wanted to do something with his life and still hadn't. His thoughts led to an idea for a food truck.
"It just kind of jumped into my head," he said.
Richards broached the idea to his friend Brynden Rawdin Morris. Together, they decided that the food cart would sell Asian Fusion cuisine, a mix of all types of Asian food.
The idea for the food cart evolved into something else when Erin Eastman, owner of The Pint Shack, said she would let them start up a restaurant using the Pint Shack's kitchen.
Richards and Morris opened their Asian Fusion restaurant in May 2013 and named it Hakujin. "Hakujin" is the Japanese word for "white person."
"My girlfriend's family is Japanese," explained Richards, chuckling. "Her grandma will make fun of me and call me 'hakujin.'"
Richards also added that the usual reason his girlfriend's grandmother makes fun of him is that he sometimes doesn't get the pronunciation of his Japanese quite right.
Richards and Morris have both had some experience in the food industry.
At 16, Richards worked at New York City Sub Shop. At 20, he worked at Elliot Glacier Pub. His last job was as a sushi chef at Sushi Okalani. He also worked at Henni's Kitchen and Bar for a brief time.
Morris' job before Hakujin was as executive chef at Everybody's Brewing in White Salmon.
Both were born in Hood River. Morris was home schooled, and Richards graduated from Hood River Valley High School in 2006.
At first, Morris studied aviation science at Portland Community College, but he soon found that becoming a commercial pilot was not as interesting as he thought it would be. Instead, Morris took classes at CGCC and received his associate degree there.
After high school, Richards left Hood River to study in Santa Barbara, Calif. He planned on majoring in business or marketing but dropped out after a year and a half. He moved to Hawaii where he worked in construction until he moved to Salt Lake City.
In 2010, when Richards was 22, he moved back to Hood River and started working at Sushi Okalani. Three years later, he got the idea to open a food truck.
Richards and Morris wanted to start with a food truck because they saw it as a way to ease into running a business. They also still wanted to travel during the winter, but when Eastman allowed them to use the Pint Shack kitchen, they saw it as a good opportunity.
The space they have is roughly the same space they would have had in a food truck, and they find it a good introduction into the world of small business.
The idea for Asian cuisine came from their appreciation of Asian food and the Asian culture.
"It's a type of food we both enjoy," said Morris.
"I was a sushi chef at Sushi Okalani," said Richards. "My dad has always inspired me to eat Asian food as well."
Indian curries and Vietnamese banh mi sandwiches are Hakujin staples. Banh mi sandwiches come in a variety of types such as jerk chicken banh mi or five spice duck banh mi.
Richards and Morris both would like to travel to Asia. Morris has been there before, but Richards has never visited. During the winters they visit, Richards wants to snowboard.
At the restaurant, Richards and Morris try to split their jobs evenly.
"Brynden does a lot of the book work and a lot of prep," said Richards. "I do a lot of prep as well. I'm learning about some of the books stuff."
They both cook and prepare food in the kitchen and are working at getting some exposure through word of mouth.
"I'm hoping it becomes a successful restaurant," Morris said.
For more information, you can find Hakujin Cuisine's Facebook page at www.facebook.com/HakujinHR. Both Hakujin and the Pint Shack can be found at 105 Fourth St., Hood River.