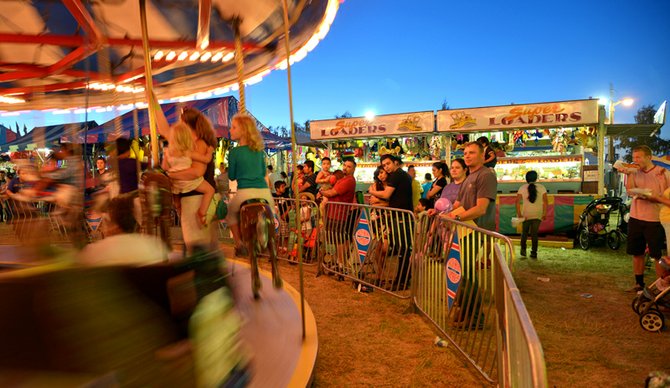 Thursday night at the fair, Harrison Howell shoveled out a hog pen and Logan Marques crouched inside turkey cages to feed and water the birds.
Not always fun, but part of the job of raising animals in FFA and 4-H.
Music, carnival rides and much else will attract people's attention today at the Hood River County Fair, as the four-day event concludes with events including team penning and ranch sorting competitions and the 8 p.m. headline country music concert by Darrell Worley.
But caring for swine, poultry, sheep, goats and other animals is a round-the-clock set of tasks for local youth working in the small animal and livestock barns on the western edge of the Odell fairgrounds.
And this year, there are more — many more — animals to take care of and for people to come out and see, as the fair winds down. The barns are open to anyone who wants to come out and visit the livestock; signs caution against touching the animals and in the swine pens people are asked to stay 6 feet away for the good of four-legged and two-legged creatures, but the barns are lively places that provide a glimpse into all that goes into caring for animals that, in many cases, will become food many people will eat.
"The biggest difference this year is we have a lot more animals than last year. All the project areas are kind of booming, so the barns are very, very full," said Dani Annala, 4-H coordinator with Oregon State University. "This means new challenges we haven't had to face in a while, as in fitting the animals in, where are we going to store tack, where are we going to groom animals, getting kids and their animals scheduled on the wash rack, all sorts of problems."
Not so long ago Annala was among those youths washing, feeding and exhibiting animals at the very same fair. You could almost mistake her for one of the FFA kids. She is in her third year running 4-H, having interned for one year after graduating from OSU.
"I feel like I'm starting to get the hang of things, but I feel like I could be here 10 years and never get it," she said.
Annala said there are nearly twice as many cattle as last year, a big increase in swine entries, and overall the numbers are up significantly, both in breeding and market projects.
"We had to borrow pens from Sherman County just to fit them all in," Annala said. Beef and swine "take up a lot of space, which is okay. With twice as many cattle as we did last year, it's exciting, so it's new challenges. We've kind of been growing a little every year, and this year we had a big growth."
She said the fair board poured some new concrete in the barns to go with borrowing the pens from Sherman County.
"We used what was used for cattle in the past and set it up for pigs, and areas that were maybe kind of dead space we marked in for cattle," Annala said. "It's just a full barn now, which is exciting."
4-H Leader Sharlene Roser of the Blue Eggs and Ham group, said, "I love the fair. It's great to see the kids taking care of animals and learning about those responsibilities.
"We're living out here this week and it's a great experience. The fair is fun — hot, but fun." Roser's daughter Hannah, 10, is exhibiting for the first time, starting with chickens.
"We decided to start small," Roser said.
Continued growth will require either building or buying new pens, but Annala said fair organizers "decided just to borrow them this year, just to see and then if we need to next year we'll build or buy some."
The areas with new concrete "can be used for beef, swine or sheep, anything we need," she said. Sheep and goat pens are all placed on dirt surfaces, but swine need to be on concrete or asphalt because the animals will root, and some of the cattle are penned on harder surfaces.
As a result of the rising numbers of animals, the auction committee decided for next year to cut from three to two the number of animals each person can enter in the livestock auction.
"I announced this Wednesday at the exhibitor meeting, that (in 2014) they can each only market two," Annala said. "They can do more breeding projects but only two through auction. Actually we're one of the few fairs that allow three to go to market."