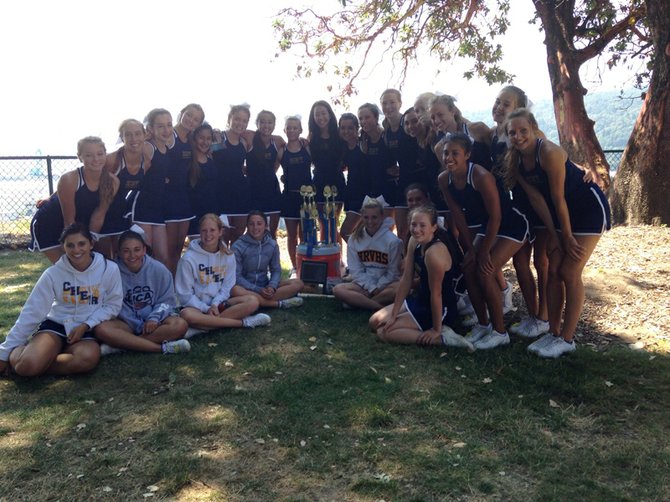 Hood River Valley High School's incoming squad of varsity cheerleaders picked up top honors last week by earning the Camp Champion title at the July 16-19 Universal Cheerleaders Association Cheer Camp. The four-day event brought cheerleaders from around Oregon and Washington to the University of Portland campus to bond with fellow teammates and other teams and to improve skills through a variety of classes and programs.
The Hood River varsity squad was labeled Camp Champions by earing the highest overall evaluation score in multiple categories. Adding to the positive presence at the camp, HRV's junior varsity girls were named the most improved squad and six girls (Madi Wofford, JV, Jesica Campos, varsity, Mason Bailey, varsity, Ruby Guenther, JV, Georgia Orgain, varsity and Anneke Virk, varsity) were awarded All American status for the season.
The most exciting honor, says coach Jennifer Schlosser, is the Leadership Award that the HRV girls earned.
"The award is given to the squad who shows good leadership skills, school spirit, is friendly to the other teams and has a great attitude," she said. "When the squads are voting, the instructors will tell the campers to think of a squad at camp that you would want to be on. The award is also explained as a coach's ideal team that goes above and beyond what is asked of them. As coaches we are proud of these girls for being great representatives of Hood River Valley High School."