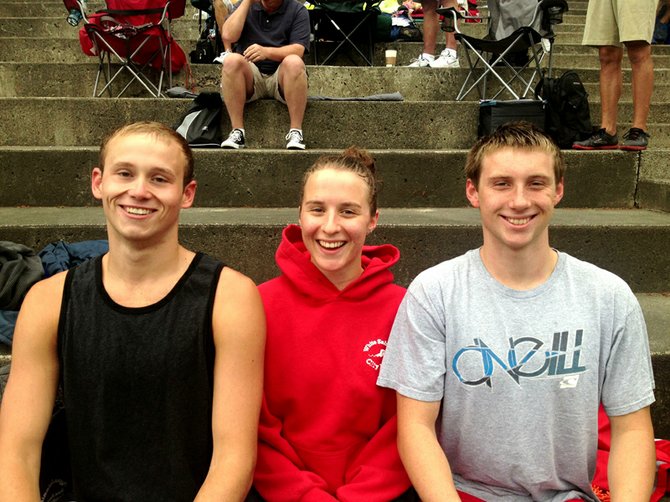 Hood River Valley Swim Team has had a busy summer of racing around the Northwest. Most recently, team swimmers competed last week at three different meets — the Speedo Championship Series Sectionals in Gresham, the Oregon Swimming 12U championships in Albany and the Sizzlin' Summer meet in Moses Lake, Wash.
The team's oldest swimmers were at the sectional meet, where swimmers set four new team records and fielded HRVST's first-ever relay team at that level (Scott Bergstrom, Connor Webb, Carlos Galvez and David Walker). Mariah Rawding broke the team's 100 breaststroke record, held by Kim Simpson since 1994 (1:18.75), with a time of 1:18.64. Bergstrom broke three of his own records to raise the bar for future standout swimmers with a 1:58.33 time in the 200 freestyle, a 4:09.48 in the 400 freestyle and a 55.21 in the 100 freestyle.
At the 12 and under championships, HRVST's Sarah Arpag took top honors by posting six best times in the six events she swam. The same weekend, another group of team swimmers attended a summer meet in Moses Lake. Nadia Smith, Leif Bergstom, Thea Smith, David Walker and Erin Nelson led the way for the team by posting the four or more top-five finishes.
Other highlights are as follows:
Oregon Swimming 12U championships top ten finishes:
Sarah Arpag (9): 100 free, 5th; 200 IM, 6th; 200 free, 4th; 50 free, 3rd
Allison Burke (12): 200 free, 9th
Emilio Castaneda (11): 100 fly, 9th
Thea Smith (8): 100 free, 7th; 100 fly, 5th; 200 free, 9th
Moses Lake top five finishes:
Leif Bergstrom (14): 400 free, 3rd; 100 breast, 5th; 50 free, 2nd; 100 free, 3rd
Per Bergstrom (12): 50 fly, 5th
Allison Burke (12): 200 free, 2nd
Erin Nelson (16): 400 free, 5th; 200 back, 3rd; 50 free, 2nd; 100 free, 2nd, 100 back, 4th
Drake Shea (7): 50 breast, 5th
Nadia Smith (13): 400 free, 2nd; 100 breast, 3rd; 200 back, 5th; 50 free, 5th; 100 free, 5th
Thea Smith (8): 50 back, 1st; 50 free, 3rd; 50 fly, 3rd; 100 free, 3rd
David Walker (15): 400 IM, 4th; 200 back, 1st; 200 fly, 5th; 100 back, 5th
Laura Walker (12): 100 breast, 5th