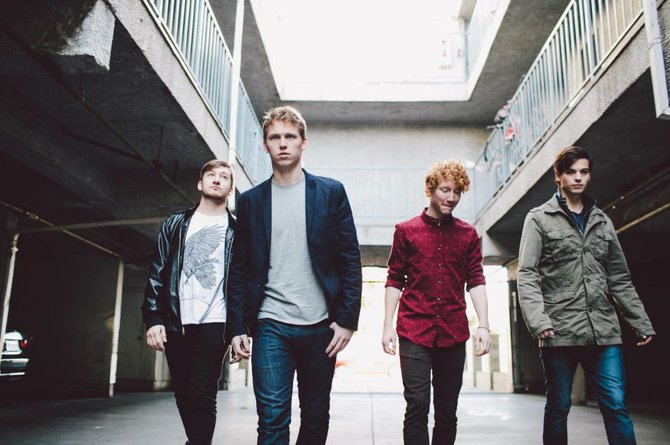 If you are under 25 in Hood River chances are you've heard of Sunderland. They are a homegrown band that has begun their race towards fame.
In the last 30 months, the pop/rock group has completed six national tours. Fans and would be fans can now help boost the band in building a strong Oregon fan base in the next few days through an online vote.
AmplifiedContest.com is offering one of ten Northwest band finalists the chance to open for the band, Weezer, at a June 21 Pioneer Square concert. The lucky group will be chosen based on the number of votes cast online.
The voting link is: http://amplifiedcontest.com/Vote/Profile/121. Voting closes on June 9.
"We are already in the top 10. We submitted our "Echoes" music video and a judging panel at Microsoft, and some members of Weezer, selected us," said band member Dylan Bauld.
Guitarist McKinley Kitts, multi-instrumentalist Zach Grace and Kyle Hill, drummer of Tualatin, join Bauld as bandmates. The three founding members are all from Hood River. Hill joined the group last summer.
The band just completed their first full-length album, "Closer Now," which was produced by multi-platinum producer John Fields, who has worked with the Jonas Brothers, GooGoo Dolls, Switchfoot and others. They previously released two EPs: "A Change of Pace" and "Sunderland."
"This was a much bigger step than those two," said Bauld.
Following the guidance of their new producer, the band submitted a plate of new music that Fields and his manager reviewed. Eleven new songs were ultimately fully recorded and included in the album.
Fields is also working with his connections in Hollywood to gain some traction for the group.
"They are putting our name out to their business connections and advocating for Sunderland," said Bauld.
"Every song on the album was written by a different member," said Bauld, with most written before Hill joined. "But, he gives us a solid backbone for the band."
As to the album title, Bauld says, "It has multiple meanings: It is our main single and it's about this being a step closer as a band."
If they win the coveted slot with Weezer, Bauld feels an important opportunity will open up for the group.
"We've been touring around the country but we've been missing a bigger Oregon fan base. This is a great opportunity for that; it would be huge."
Sunderland won a similar online contest in the fall of 2011. They then opened for Panic! at the Disco in Madison, Wisconsin in Oct. 2011.
The bands two EPs are already available on iTunes along with their new album. And the group recently made it into the Pandora play list.
"It's cool. Not only do we have our own channel, but our band will be featured on other bands' channels."