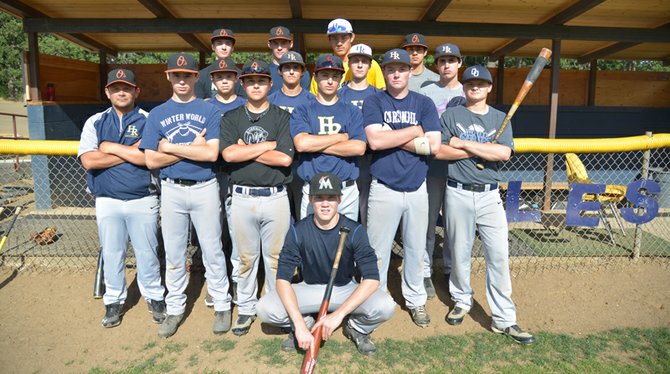 Although the Hood River Valley High Eagles varsity baseball team concluded its season last month, it really wasn't the end of the hardball season for most of the players.
A 15-member Carson Oil-sponsored Oilers squad, guided by HRV coach Erich Harjo, continued practicing hard in preparation for the Oregon Junior State Baseball Association summer schedule. The Oilers, which consist of a group of players from the 2013 HRV freshman, junior varsity and varsity squads, opened the summer league with a 6-3 road win June 6 over Estacada.
"It's really important to have everyone out here, because it helps us to evaluate the players who will be on the varsity team next year," said Harjo. "It helps us to figure out what players we'll have for next year."
The Oilers, led by Kam Walker, Patrick Harvey, Daniel Romero and HRV seniors-to-be Connor Olson and Alex Jimenez, will play 30 games over the next six weeks until the regular season concludes July 16. Regional and state playoffs will follow at the end of the OJSBA season.
Walker, an incoming junior, pitched five innings in the second game of Saturday's home doubleheader to help lead the Oilers to a come-from-behind 10-5 win over St. Helens (2-3). The Oilers (2-1) bounced back from a 5-3 defeat in the first game.
Harvey, an incoming sophomore, belted a two-run fifth-inning triple to lead the offense. Walker allowed six hits and struck out five to earn the win while pitching for the first time since last summer. He also provided an offensive spark with an RBI double in Game 2.
"This is a whole different team and it's a lot younger group of players," said Walker, in comparing the Eagles varsity squad he played on that had six graduating seniors. "We're just trying to prepare and get ready for next year. Summer league will help us do that and we'll all be working together as a team to improve."
Walker didn't pitch for the Eagles during the spring season as he was HRV's starting second baseman and a defensive standout on the field.
"I pitched in summer league last year, but I haven't been throwing at all this year," said Walker. "I really like pitching and it felt good to be out on the mound. We didn't hit very well in the first game. We came back in the second game and hit better to get a win, so that was good. I really like this team, we all get along well together and I think we're going to have a fun season."
Hood River will play in a league with a number of Portland area teams and the top-three teams will qualify for regional playoffs. The league champion earns a bye and an automatic state playoff berth.
"Obviously, our goal is to win our league and go to state," said Harjo. "It's always fun having a new group. They're young and they'll learn a little better because they're more willing to listen. These guys have lots of work to do though and we'll have to see what they can do to improve."
The Oilers travel to Corvallis to play in a 15-team tournament June 14-16. The team will watch HRV standout catcher and graduated senior Kyle Beam play in the Reser's Oregon All-Star Baseball Series June 15-16 at Goss Stadium on the Oregon State University campus.
Beam, a first-team all-state catcher, was selected to play on the North squad in the three-game series for top Class 6A/5A senior players in the state. The North will play the South in a June 15 noon doubleheader and then the two squads meet again June 16 for one contest. It marks the third consecutive year an HRV player was selected for the prestigious all-star series. Cody Walker played in 2012 and Parker Sherell played in 2011.
The Oilers' next home game is June 17 when the team hosts Franklin at 6 p.m. at HRV's Traner Field. They'll play three straight at home, as they'll meet Putnam June 18 at 6:30 p.m., followed by a June 19 matchup versus Estacada.