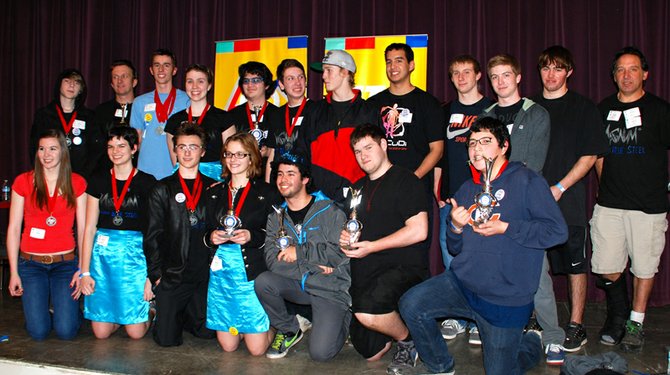 Three Hood River Valley High School robotics teams won state championship slots at OMSI's First Tech Challenge qualifying tournament on Feb. 24. They all advance to finals this weekend.
The Portland event had 16 teams competing and started with five qualifying rounds, placing Hood River teams first, second, sixth and eighth.
Hood River team Magnum (first place) chose to ally with a Hermiston team to compete against two of the remaining Hood River teams, The Men Who Stare At Programs and Black Hawks.
After three rounds The Men Who Stare at Programs and Black Hawks defeated Magnum to take first place.

All three Hood River teams earned a slot at state.
The highest award of the day at OMSI was the Inspire award and was taken home by HRV's team Magnum (formerly Blue Steel). This award is given to the team that encompasses all of the aspects of First robotics: robot performance, robot design, community service and outreach.
The Oregon State First Tech Challenge event will be held March 3 at South Meadows Middle School in Hillsboro. Team coach Jeff Blackman hopes that the community will turn out in support of the teams as they compete with others from across Oregon and Washington.
All competing robotic teams will use a combination of robot design, construction, documentation and programming to win a technological challenge couched in a prescribed robotics "game."
This year's FTC state-level game is called "Ring It Up!" Teams will engage their robots against opposition's on a 12x12-foot diamond-shaped field.
The object of the game is to score more points than your opponent's alliance by having robots select, transport and place plastic rings onto pegs on the center rack. Teams will also be challenged to detect special "weighted" rings to earn a special multiplier bonus.
Two alliances comprised of two teams each compete in matches consisting of a 30-second autonomous period followed by a two- minute driver controlled period.
This year's 16 final teams competed in a field of 106 entrants through a five-week series of qualifying events.