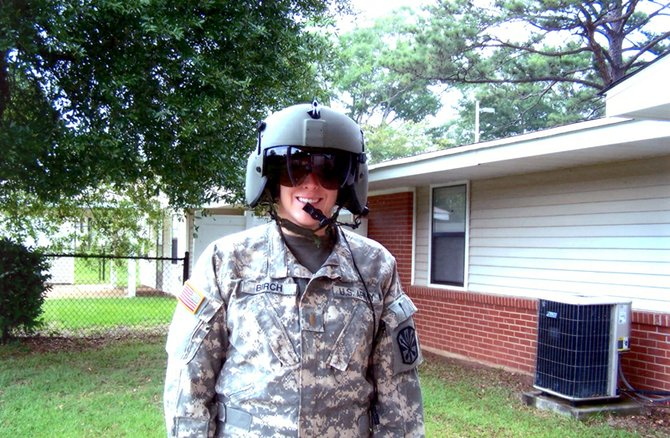 The newly licensed 16-year-old pilot profiled in a 1999 edition of the Hood River News has moved way beyond Cessna.
Second Lt. Amanda Birch, a 2001 Hood River Valley High School graduate, is now a Blackhawk helicopter pilot.
On Jan. 24, Birch graduated from the United States Army Aviation Center of Excellence at Fort Rucker, Ala.
Birch, now 30, received her IERW UH-60 Blackhawk helicopter wings after 18 months of intensive training in survival, rescue, and flight — one of five women in the 90-member training cadre.
Birch, the daughter of Charles and Maureen Birch, of Hood River, is stationed in Phoenix, Ariz., the latest chapter in a long saga involving success in the air and in the water.
After graduating from Hood River Valley High School in 2001, Birch attended the University of Hawaii in Manoa to study kinesiology with hopes of becoming an athletic trainer of a physical therapist. While in Hawaii, Birch competed on the UH-Manoa swim team for two years.
In high school Birch swam for the HRVHS swim team and the Hood River Valley Swim Team. Birch made a "big splash" in swimming when she competed for the World Sports Exchange International swim team her sophomore year in high school.
The team was filled with the best athletes across the United States to compete against the Australian team assembled by the New South Wales Swimming Association.
After attending two years at the University of Hawaii, Birch transferred to the University of North Dakota's John D. Odegard School of Aerosciences.
She received the Cirrus Design Corporation Award through the UND foundation in 2006. While at UND, Birch was a flight instructor and an airport safety officer for the Crookston, Minn., airport.
In her spare time, Amanda coached the junior varsity high school girls swim team and the Red River Valley Y Wahoo swim team.
On May 10, 2008, Birch graduated with a Bachelor of Science degree in aeronautics with a major in commercial aviation along with a bachelor's degree in business and public administration, and a major in aviation management.
After graduating, Birch became a flight instructor in Scottsdale, Ariz., for Sawyer Aviation. Birch joined the Arizona National Guard in 2009 and was later commissioned as a second lieutenant on Sept. 11, 2011, in Phoenix.
— Katie Tolbert, News intern, contributed to this story.