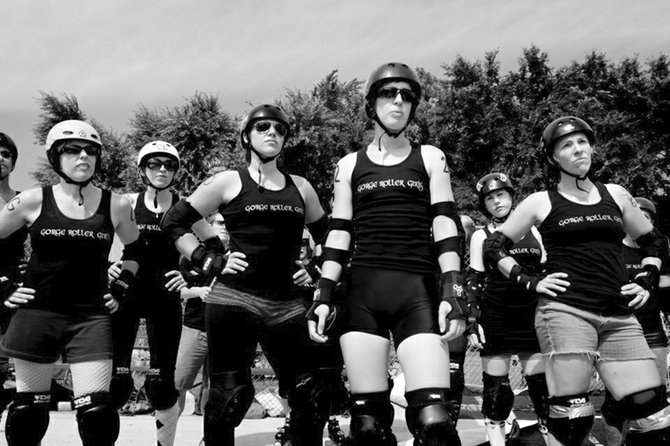 If there was ever a time in Hood River to break-out the clickty-clackers, cowbells, plastic clappy-hands, thunder-sticks and vuvuzelas, Saturday is it. The otherwise maddening spectator noisemakers will provide appropriate harmony for the Gorge Roller Girls' first-ever league bout; a match-up between the River Reapers and the Cherry Bombers March 16, 6 p.m. at Hood River Valley High School.
The contest between the two GRG flat-track squads is a milestone in what has quickly proved to be a vibrant and energetic new sport for the region. Founded a little more than a year ago, GRG started with a core group of women who had no experience but wanted to learn the sport of roller derby. After learning the basics in Portland, the group formed a club in Hood River with women from throughout the Gorge. Interest exploded, and before long there were enough players to field two separate teams; hence Saturday's Bombers vs. Reapers match-up.
"This game will be for bragging rights in our local league," said coach Shannon Burns. "We expect this game to be neck-and-neck all the way to the end. We have tried to make the teams even in abilities and it should be a hard-fought game."
Doors open for the event at 5 p.m., action starts at 6 p.m. Admission is $10 per person and tickets should be purchased ahead of time online at www.gorgerollergirls.com. A limited number of tickets will be available at the door.
Top players from both teams will make up the GRG All Stars, which will have several bouts in the 2013 season, including the first scheduled for April 13 at HRVHS against the Southern Oregon Rollergirls. The GRG's first full season comes after bouts last year in Hermiston, Ellensburg, Astoria and Portland; the team lost the first two and won the second two.
Since then the group has been training regularly — daily for many — to get toughened-up for the season.
"These ladies are athletes that work very hard to learn how to skate, learn the rules, learn how to play and get in the best shape that they can," Burns said.
"Skaters come in every size and shape. They may make up silly names for themselves, but they are very serious. All you need to play derby is a little desire and a lot of guts."
Leagues and contests are run under Women's Flat Track Derby Association rules and regulations. WFTDA has 177 member leagues from coast to coast, including the Rose City Rollers, which recently accepted GRG as an expansion team.
To better enjoy Saturday's contest, it might be helpful to brush up on how bouts are run and scored and the roles different positions play in the game. An in-depth description of the sport, its history, rules and points system can be found by a quick Wikipedia search of roller derby.